American Express® Aeroplan®* Card

Welcome Bonus
New American Express® Aeroplan®* Cardmembers can earn up to 40,000 Aeroplan points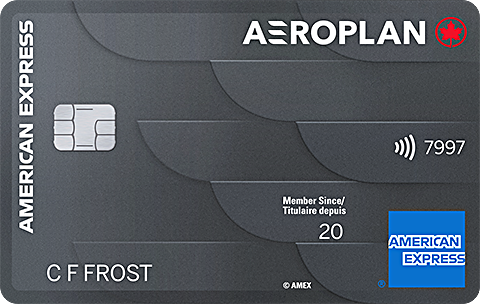 Card Details
American Express® Aeroplan®* Card ReviewWelcome bonus offer

New American Express® Aeroplan®* Cardmembers can earn up to 40,000 Aeroplan points:
Earn 3,000 Aeroplan points for each monthly billing period in which you spend $1,000 in net purchases on your Card for the first 10 months of Cardmembership. That could add up to 30,000 Aeroplan points
Plus, you can also earn 10,000 Aeroplan points when you make a purchase between 14 and 17 months of Cardmembership
That's up to $900 or more in value when you combine your welcome bonus points and card benefits
Earn Points You Can Use On Your Next Trip

Standard Earn Rate: Earn 2X the points on eligible purchases made directly with Air Canada®* and Air Canada vacations®*
Standard Earn Rate: Earn 1.5X the points on eligible Dining and Food Delivery purchases in Canada
Standard Earn Rate: Earn 1X the points on everything else
Enjoy your first checked bag free (up to 23kg/50lb) for up to 9 people travelling on the same reservation on Air Canada®* flights
Earn 1,000 Status Qualifying Miles and 1 Status Qualifying Segment for every $10,000 in eligible net purchases charged to your Card
Earn Points Faster. Reward Yourself Sooner.
As an American Express Aeroplan Cardmember, you can often book flight rewards for even fewer points with preferred pricing
American Express® Experiences: From music and movies, to specially curated dining and online shopping opportunities,
Enjoy an array of travel related insurance benefits such as Lost or Stolen Baggage Insurance and up to $500,000 in Travel Accident Insurance
24/7 Customer Service and Emergency Card Replacement
As part of their commitment to sustainability, the American Express® Aeroplan®* Card has been made with 70% reclaimed plastic
No pre-set spending limit on purchases gives you flexibility. Using a charge card is a great way to manage your finances as the balance must be paid in full each month*
* American Express is not responsible for maintaining or monitoring the accuracy of information on this website. For full details and current product information click the Apply now link. Conditions apply
Insurance
Priority airport services

Yes

Airport lounge access

No

Concierge service

No

Balance protection(Optional)

No

Purchase Security & Extended Protection Insurance

Yes

Flight delay insurance,Baggage Insurance

Yes

Vehicle rental insurance

Yes

Travel accident insurance

Yes

Travel medical insurance

Yes
Fees and Eligibility
Fees
Annual Fee:

$120

Additional Card Fee:

$50

Purchases Interest Rate:

-%

Cash Advance Interest Rate:

-%
Eligibility
You're a Canadian resident
You've reached the age of majority in your province or territory
Recommended Credit Score:
Our Rating
Rating Methodology:
My Rate Compass's ratings are determined by our editorial team. Our editors rate credit cards objectively based on the benefits and features the credit card offers, interest rates, the fees, and how a credit card compares with other cards in its category.
Credit card rating methodology
Pros and Cons
Make every travel experience one to remember with Air Canada benefits.
Travel lightly with a free checked bag
You and up to eight companions travelling on the same reservation will enjoy your first checked bag free (up to 23kg/50lb) when your travel originates on an Air Canada flight4

Reach Aeroplan EliteTM* Status Faster

As the Basic Cardmember, you will earn 1,000 Status Qualifying Miles and 1 Status Qualifying Segment for every $10,000 in eligible net purchases charged to your American Express Aeroplan Card

5

Travel Coverage

Car Rental Theft and Damage Insurance

$500,000 Travel Accident Insurance

Travel Emergency Assistance

Editor's Review
American Express Aeroplan Card
The American Express Aeroplan Card is a charge card that allows users to also collect points towards the Aeroplan loyalty program. Check out the features of the credit card below.
Rewards
The Aeroplan Card allows users to earn points towards Air Canada's Aeroplan loyalty program. With this credit card, you will earn points at the following rates:
Earn 2 points per dollar spent on Air Canada and Air Canada Vacations
Earn 1.5 points per dollar spent on dining and food delivery in Canada
Earn 1 point per dollar spent elsewhere
Currently, there is a welcome bonus for this credit card of up to 50,000 Aeroplan®* Points.New American Express® Aeroplan®* Cardmembers can earn up to $900 in value within your first year and a bonus Buddy Pass:
Fees
Before applying for the Aeroplan Card, you should be mindful of the fees. Below is a list of fees that are associated with this credit card.
Annual fee: $120
Interest rate: 30%*
Additional cards: $50 each
* Note: This credit card is a charge card which means the balance must be paid in full each month. If the balance is not paid in full, interest will be charged.
Other Features
Given that the Aeroplan Card is a travel-based credit card, it comes with an array of travel perks. Below are some additional benefits that come with this card.
Your first checked bag is free on Air Canada flights for up to 9 people.
Earn Aeroplan Elite Status faster.
No pre-set spending limit.
Access to AMEX special offers including Front Of The Line and exclusive experiences.
Travel insurance coverage.
Purchase protection and extended warranty.
You can earn Aeroplan points ("points") for eligible consumer purchases at American Express retail merchants as follows: Earn 2 points for every $1 of eligible purchases made directly with Air Canada. Earn 1.5 points for every $1 of eligible purchases at restaurant, quick service restaurant, coffee shop and drinking establishments in Canada, and delivery of food in Canada as a primary business, but not including groceries. Eligible Air Canada purchases means only those purchases made directly with Air Canada as the merchant, including Air Canada Vacations packages purchased directly from Air Canada. Air Canada purchases using your card at another merchant or service provider that sells Air Canada goods or services would not be an eligible Air Canada purchase, such as purchasing (i) Air Canada tickets from an online website other than Air Canada, through a travel agent including American Express Travel Services, or as part of a vacation package from another merchant, (ii) Air Canada gift cards, (iii) Air Canada Maple Leaf Club memberships or (iv) if you make a purchase through Air Canada with another merchant such as a hotel or car rental booking on the aircanada.com website. Earn rate of 1 point for every $1 applies when the merchant code is not in an eligible category, using a payment account or service of a third party, a card reader attached to a mobile phone or online retailer that sells goods of other merchants or the merchant category is otherwise not identified. Provided your account is in good standing, points can be earned on eligible purchases less returns and other credits. Interest charges, annual fees, other fees and cash equivalent transactions are not purchases and do not qualify for Aeroplan points.
2 Purchase must be charged in full to an American Express Card. Subject to availability and to event and ticketing terms, restrictions, verification procedures and fees. Tickets and packages may not be transferable and should not be resold. No refunds and no exchanges subject to merchant's obligations under applicable law.
3 From time to time, eligible Basic Aeroplan Cardmembers can get access to preferred pricing, which means they can book flight rewards for even fewer points. The number of points required to book a flight reward is determined by several factors, including, but not limited to, holding an eligible Aeroplan credit card and a member logging into their Aeroplan account, along with other rules as determined by Aeroplan in its sole discretion.
4 A Basic Cardmember or eligible Supplementary Cardmember, and up to eight (8) other passengers traveling on the same reservation (up to a maximum of 9 travellers), are each entitled to a free first checked bag up to 23kg/50lb. Benefit only applies when checking in with Air Canada, for a flight operated by Air Canada, Air Canada Rouge or under the Air Canada Express brand. Benefit is not available if check-in is with another airline. If the first checked bag is already complimentary (for example, as a result of Aeroplan EliteTM Status or fare purchased), there is no additional checked bag benefit that will be provided. Free first checked bag benefit may not be applied retroactively, and no refunds will be issued. Service charges for additional/oversized/overweight baggage may apply. For more information on baggage restrictions, please visit www.aircanada.com/baggage.
®: Used by Amex Bank of Canada under license from American Express.
®*, TM: For trademark ownership details see: americanexpress.ca/aeroplantrademarks
Compare Credit Cards
Compare credit cards side by side and choose the best option to maximize cash back, rewards, pay down debt, and save money on interest.
Compare Cards

Help me Select a Credit Card
Find the credit card that is right for your needs and lifestyle by using our free credit card selector tool.
Find a Card