American Express® AIR MILES®* Reserve

Welcome Bonus
Earn a welcome bonus of 2,400 AIR MILES®* Bonus Miles when you charge a total of $3,000 in purchases to your Card within your first 3 months of Card membership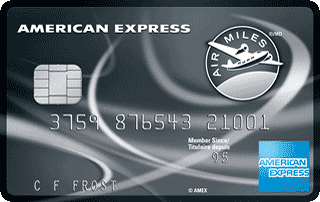 Card Details
WELCOME BONUS OFFER

New American Express® AIR MILES®* Reserve Credit Card Cardmembers, earn a welcome bonus of 2,400 AIR MILES®* Bonus Miles when you charge a total of $3,000 in purchases to your Card within your first 3 months of Card membership. That's enough for two select flights
Your ticket to the World of Onyx®* - Receive automatic Onyx® Collector status
Once a year, when you redeem for any flight Reward within the AIR MILES®* Reward Program, you can receive up to a maximum of 1,700 Miles towards a Companion Flight, for your companion to travel with you for the same itinerary (offer excludes service charges if applicable and taxes)
Get 1 Mile for every $10 in Card purchases at eligible AIR MILES®* Partners (excludes purchases made at airmilesshops.ca)
Get 1 Mile for every $10 in Card purchases at other eligible grocery stores, gas stations and drugstores in Canada
Plus, get 1 Mile for every $15 in Card purchases everywhere else
You can receive four (4) complimentary visits per year to more than 1,300 airport lounges around the globe. After your four (4) complimentary visits have been used for the year, you may continue to visit the lounges for a usage fee at the prevailing rate
American Express is not responsible for maintaining or monitoring the accuracy of information on this website. For full details and current product information click the Apply now link. Conditions apply
Insurance
Priority airport services

Yes

Airport lounge access

Yes

Concierge service

Yes

Balance protection(Optional)

No

Purchase Security & Extended Protection Insurance

Yes

Flight delay insurance,Baggage Insurance

Yes

Vehicle rental insurance

Yes

Travel accident insurance

Yes

Travel medical insurance

Yes
Fees and Eligibility
Fees
Annual Fee:

$299

Additional Card Fee:

$0

Purchases Interest Rate:

20.99%

Cash Advance Interest Rate:

21.99%
Eligibility
You're a Canadian resident
You've reached the age of majority in your province or territory
Recommended Credit Score:
Our Rating
Rating Methodology:
My Rate Compass's ratings are determined by our editorial team. Our editors rate credit cards objectively based on the benefits and features the credit card offers, interest rates, the fees, and how a credit card compares with other cards in its category.
Credit card rating methodology
Pros and Cons
EXCLUSIVE ANNUAL COMPANION FLIGHT BENEFIT

Once a year, when you redeem for any flight Reward within the AIR MILES®* Reward Program, you can receive up to a maximum of 1,700 Miles towards a Companion Flight, for your companion to travel with you for the same itinerary (offer excludes service charges if applicable and taxes)
AIR MILES FLEXFLY, A RESERVE EXCLUSIVE
Through AIR MILES FlexFly Redemptions, you can access additional airlines and destinations, departure times, and economy, business and first class seats on flights not available within the AIR MILES Flight Program.
Editor's Review
American Express provides their customers with a lucrative bonus offer when they obtain the Air Miles Reserve credit card.


New American Express® AIR MILES®* Reserve Credit Card Cardmembers.
Earn a welcome bonus of 2,400 AIR MILES®* Bonus Miles when you charge a total of $3,000 in purchases to your Card within your first 3 months of Card membership. That's enough for two select flights
After the bonus, card holders earn one Air Mile for every $10 spent on eligible Air Miles partner purchases and other eligible purchases such as gas, groceries and pharmacy. One Air Mile is earned for every $15 spent elsewhere. Card holders can redeem their points on flights, hotels, merchandise, car rentals, electronics, among many other things. In addition, card holders will earn Onyx status, a Companion Flight on a round trip economy flight once a year, four complimentary visits to airport lounges around the globe and Priority Pass status. Lastly, card holders also can take advantage of American Express customer benefits including Front of the Line, travel insurance, purchase insurance and Insider Access.
On the flip side, there are some disadvantages to this credit card. First, all of these perks aren't free, as you can probably imagine! The annual fee for this credit card is $299 which is much more expensive than most travel-based credit cards in Canada. Second, AMEX isn't as widely accepted as other credit cards are, like Visa and Mastercard. Using an American Express card day to day can be challenging since not every store or vendor will accept it as payment.
In summary, the American Express Air Miles Reserve credit card is a superb choice if you're dedicated to Air Miles and want to travel in style. If the annual fee is out of your budget, American Express also offers a Platinum version with a less expensive annual fee and a basic version with no annual fee. But remember, the more you pay, the more you'll get!
.
*Subject to approval. The preferred rate for purchases is 20.99% and funds advances is 22.99%. If you have Missed Payments, the applicable rates for your account will be 23.99% and/or 26.99%. See the information box included with the application for the definition of Missed Payment and which rates apply to charges on your account and other details.