BMO U.S. Dollar Mastercard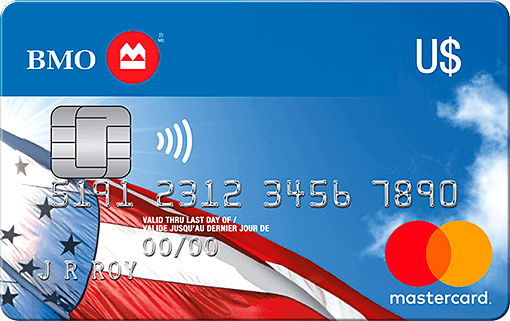 Card Details
BMO® U.S. Dollar Mastercard®* Review

Shop in U.S. dollars and avoid exchange rate surprises with the BMO U.S. Dollar Mastercard.
When your purchases total U.S. $1,000 or more in a year, next year's annual fee is rebated to your card.
Insurance
Priority airport services

No

Airport lounge access

No

Concierge service

No

Balance protection(Optional)

No

Purchase Security & Extended Protection Insurance

Yes

Flight delay insurance,Baggage Insurance

No

Vehicule rental insurance

No

Travel accident insurance

No

Travel medical insurance

No
Fees and Eligibility
Fees
Annual Fee:

$35

Additional Card Fee:

$0

Purchases Interest Rate:

19.99%

Cash Advance Interest Rate:

22.99%
Eligibility
You're a Canadian resident
You've reached the age of majority in your province or territory
Recommended Credit Score:
Our Rating
Rating Methodology:
My Rate Compass's ratings are determined by our editorial team. Our editors rate credit cards objectively based on the benefits and features the credit card offers, interest rates, the fees, and how a credit card compares with other cards in its category.
Credit card rating methodology
Pros and Cons
Extended warranty coverage, doubling the original manufacturer's warranty period up to a maximum of one additional year.
Purchase protection to insure against theft or damage for 90 days from the date of purchase.
Acceptance at over 30 million locations in the U.S., Canada and worldwide.
Editor's Review
BMO® U.S. Dollar Mastercard®* will help to eliminate need for currency conversion when you pay in USD. U.S. dollar credit cards are good for those who :
Regularly make purchases in the U.S. (either online or in person
Who regularly travel to the U.S
Who live in the U.S for few month each year(Snowbirds)
The BMO® U.S. Dollar Mastercard®* is a totally unique travel card aimed to enable Canadians who frequently travel in the US to enjoy amazing discounts. For just $35 a year, you can use this card to shop in US dollars and avoid any unpleasant exchange rate fees. You can also use this card safely from Canada and pay in US dollars, especially if you make lots of purchases from US-based sites.
With any other card, you're paying around 3% more in exchange fees from $CAD to $US. This fee can top up pretty fast. For example, for purchases worth $5,000, you'll pay an extra fee of over $150. That's where the BMO U.S. Dollar Mastercard comes in, enabling you to completely eliminate the need for paying exchange fees.
This card makes the most sense for Canadians who earn their salaries in US dollars, purchase on a regular basis from US-based sites, or travel a lot down South. As long as you spend over $1,000, the $35 annual fee will be waived, so you can enjoy even higher savings.