Capital One Guaranteed Secured MasterCard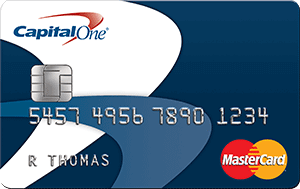 Card Details
Capital One Guaranteed Secured MasterCard Review
Top features at a glance:
Guaranteed credit card approval Establish or repair your credit Increase your credit limit up to a maximum of $2,500 simply send in more security funds and they will increase your limit by the same amount.
Establish or repair your credit
Zero Liability protection, so you won't be held responsible for unauthorized use of your card
Security funds are required.
Insurance
Priority airport services

No

Airport lounge access

No

Concierge service

No

Balance protection(Optional)

No

Purchase Security & Extended Protection Insurance

NO

Flight delay insurance,Baggage Insurance

No

Vehicule rental insurance

No

Travel accident insurance

No

Travel medical insurance

No
Fees and Eligibility
Fees
Annual Fee:

$59

Additional Card Fee:

$0

Purchases Interest Rate:

19.8%

Cash Advance Interest Rate:

21.9%
Eligibility
You're a Canadian resident
You've reached the age of majority in your province or territory
Recommended Credit Score:
Our Rating
Rating Methodology:
My Rate Compass's ratings are determined by our editorial team. Our editors rate credit cards objectively based on the benefits and features the credit card offers, interest rates, the fees, and how a credit card compares with other cards in its category.
Credit card rating methodology
Pros and Cons
Mastercard Global Service If your card is lost or stolen, this service provides emergency card replacement, emergency cash advance, 24/7 telephone access and referral to the closest ABM.

Zero Liability If you're worried about unauthorized charges being made to your account, relax. As a Capital One cardholder, you're protected.
Editor's Review
The Guaranteed Secured Mastercard is Capital One's third guaranteed-approval credit card. This card carries an annual fee of $59 and an annual interest rate of 19.8% on purchases, balance transfers, and 21.9% for cash advances.

The Guaranteed Secured Mastercard is quite similar to the standard Guaranteed Mastercard and the low-rate version of the same card. Like its counterparts, applicants for this card must have reached the age of majority in their province or territory and not applied for a different Capital One account in the 30 days preceding the application for this card. The applicant also must not have an existing Capital One account. The difference comes with respect to the fourth criteria regarding past Capital One accounts not in good standing. While both the standard and low-rate versions of Capital One's Guaranteed Mastercard require the applicant not have had a delinquent Capital One account in the year preceding application for the card, this card does not. This card, instead, replaces that requirement with the requirement that cardholders provide security funds as collateral, thereby providing access to a credit card even for customers with a past account delinquency in their credit history. After an applicant has been approved for this card, he or she will send Capital One either $75 or $300, which Capital One will hold as collateral on the account.
The bottom line
: This card is specifically designed for Canadians who have had a delinquent Capital One account in the year preceding application for this card. Recognizing that everyone can experience financial hardship from time to time, Capital One offers this card as a useful and convenient way to rebuild damaged credit. While an account delinquency can result in an applicant's immediate rejection by other credit card companies, this card provides a way for cardholders to get their finances back on track along with several additional benefits, all with the backing, technology, and resources of a major international financial institution