KOHO Prepaid Premium Visa Review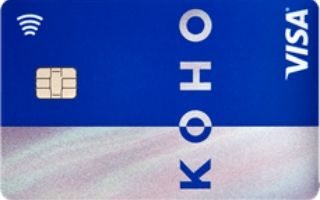 Card Details
KOHO Prepaid Premium Visa Review
- 2% cashback on transportation, groceries, drinking and eating
- Get 0.5% cashback on any other purchase
- You can exchange money internationally without any exchange fees
- Price matching feature
- Increased load and spend limits
- Free financial coaching from KOHO experts
- All of the features of the Premium plan come with $84 annual fee
- New card designs
KOHO Key Features and Benefits



KOHO comes with certain features and benefits that make it quite unique. Regardless of the version you choose, be it Regular or Premium, you get access to the following features:
- 1% cash back for all your purchases during the first 90 days (you need to use a referral code)
- Accepted worldwide: you can use the KOHO card in any country where VISA is accepted
- You can select your own design and colour combination to personalize your card and make it totally unique
- 0.5% Power Up cashback on any purchase after the first 90 days
- Round-Up feature: KOHO card enables you to round up your purchases in order to maximize your savings
- Comes with no NFS fees
- No interest rate whatsoever
- FX fees just 1.5%: the usual norm is 2.5%
- Easy connection to PayPal and quick online purchases
- Bill payment: you can pay your bills with ease thanks to this feature which integrates with all Canadian utility companies
- You can easily fund your account using e-transfer or direct deposit
- Leverage the joint accounts feature and get a common account with your spouse, family member or close friend
- Compatible with Apple Pay
- Real-time insights and budgeting categories to enable you to stay on top of any unforeseen payment and leverage analytics to save more money
- KOHO is the partner of Peoples Trust, a CDIC and federally regulated bank. This means that your money is safe. In the worst-case scenario of KOHO failure, you'll be able to receive your money via Peoples Trust.


KOHO Pricing



The Regular plan is free of charge. However, it takes around $2-$3 for foreign ATM withdrawals and another 1.5% for exchange rate. You have a daily transaction limit of 15 and an account balance limit of $20k. You can withdraw $600 per day from the ATM, but you get no price matching or free financial coaching.
Insurance
Priority airport services

No

Airport lounge access

No

Concierge service

No

Balance protection(Optional)

No

Purchase Security & Extended Protection Insurance

NO

Flight delay insurance,Baggage Insurance

No

Vehicle rental insurance

No

Travel accident insurance

No

Travel medical insurance

No
Fees and Eligibility
Fees
Annual Fee:

$0

Additional Card Fee:

$0

Purchases Interest Rate:

0%

Cash Advance Interest Rate:

0%
Eligibility
You're a Canadian resident
You've reached the age of majority in your province or territory
Recommended Credit Score:
Our Rating
Rating Methodology:
My Rate Compass's ratings are determined by our editorial team. Our editors rate credit cards objectively based on the benefits and features the credit card offers, interest rates, the fees, and how a credit card compares with other cards in its category.
Credit card rating methodology
Pros and Cons
- App efficiency: the app is extremely easy to use and quite convenient, being able to replace any traditional banking app.


- Financial coaching: the financial coaching feature available on the Premium account is simply spectacular. You can ask KOHO professionals for advice related to debt, savings, investment, budgeting, and other financial topics. This valuable resource is even more precious in 2020, during the COVID-19 crisis, because it can enable Canadians to take control of their finances.


- Savings goals: another advantage of KOHO is that it lets you create customized saving goals. Once you choose your own goal, you can take a number of concrete steps in order to reach that goal. You'll receive information on how to properly reach that goal and understand how much money you need to save per month to see your goal come reality. Thanks to the auto-saving feature, the app will use the Round-Up to deposit money into your savings account.


- Spend tracking: you can track your spending and gain control over your spending habits.


- Analytics: the app breaks your spending into categories, such as groceries, healthcare, fitness or transportation, to help you see exactly where your money is going.


- Great rewards: getting 2% for certain categories of products and another 0.5% cashback for any other expenses is a great way to round up your income.
Editor's Review
KOHO is a physical pre-paid VISA card that integrates flawlessly with a mobile app that lets you stay in control of your spending. This card is free and can be loaded with a certain amount of money.
You can use the KOHO card to make purchases to your favourite retailers, earn cash back, round up your purchases in order to save the change, and gain access to the Premium features which offers you additional benefits.
Basically, KOHO is a one-of-a-kind hybrid card that offers you the best of both worlds. First, it allows you to spend your hard-earned cash and even get some money back. Second, it allows you to spend money overseas.
Compare Credit Cards
Compare credit cards side by side and choose the best option to maximize cash back, rewards, pay down debt, and save money on interest.
Compare Cards

Help me Select a Credit Card
Find the credit card that is right for your needs and lifestyle by using our free credit card selector tool.
Find a Card