National Bank Syncro Mastercard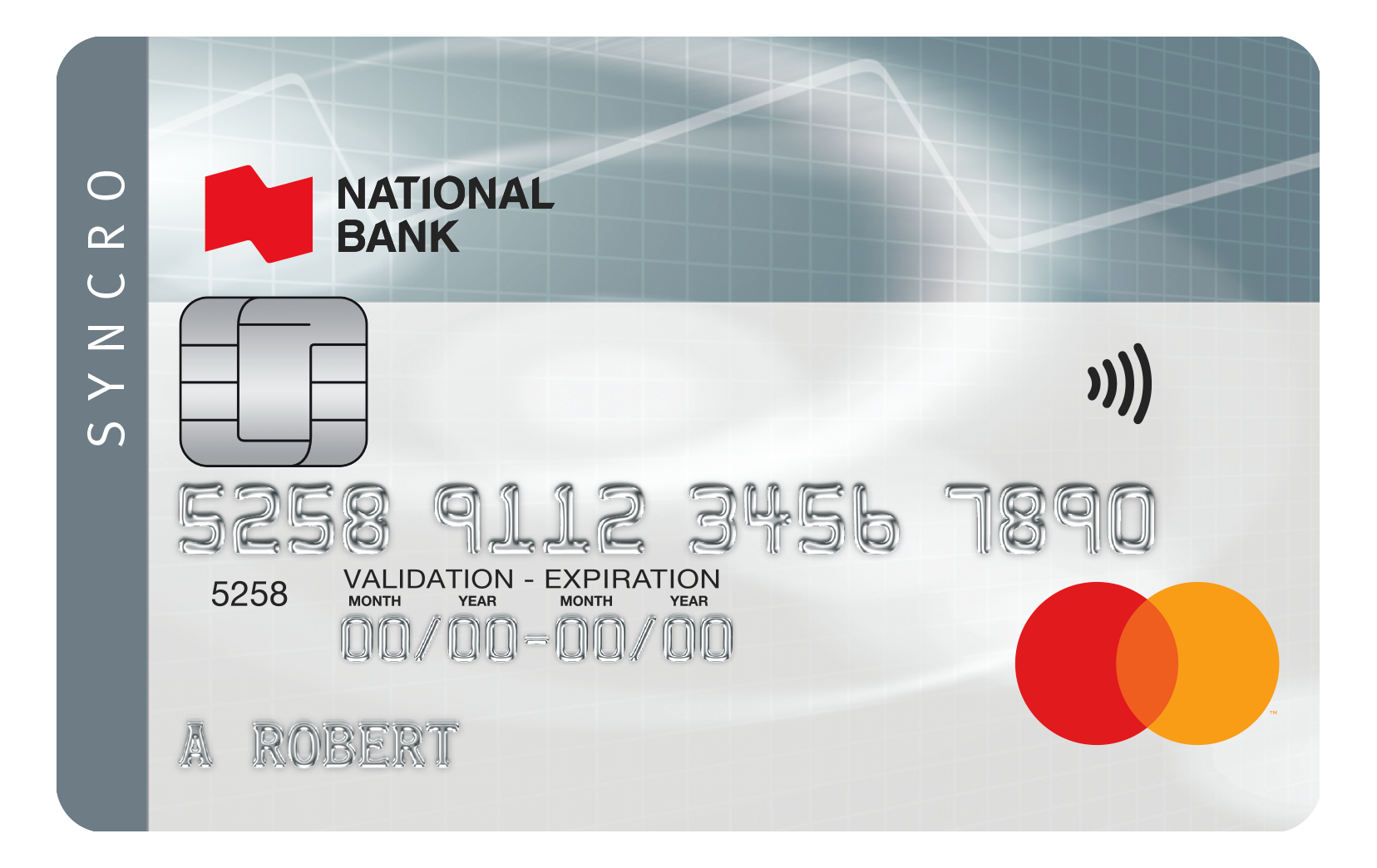 Card Details

If you're paying too much interest, breathe easier with the Syncro Mastercard low interests credit card

The Syncro card's rate offers you a competitive interest rate at all times

Protect your purchases with an insurance program you can count on

Protect yourself against unauthorized purchases thanks to the Mastercard Zero Liability program.
Insurance
Priority airport services

No

Airport lounge access

No

Concierge service

No

Balance protection(Optional)

No

Purchase Security & Extended Protection Insurance

Yes

Flight delay insurance,Baggage Insurance

No

Vehicle rental insurance

No

Travel accident insurance

No

Travel medical insurance

No
Fees and Eligibility
Fees
Annual Fee:

$35

Additional Card Fee:

$0

Purchases Interest Rate:

11.20%

Cash Advance Interest Rate:

15.20%
Eligibility
You're a Canadian resident
You've reached the age of majority in your province or territory
Recommended Credit Score:
Our Rating
Rating Methodology:
My Rate Compass's ratings are determined by our editorial team. Our editors rate credit cards objectively based on the benefits and features the credit card offers, interest rates, the fees, and how a credit card compares with other cards in its category.
Credit card rating methodology
Pros and Cons
Low interest rates
The purchase rate is 4% + prime rate (4% + 6.95% = 10.95%)
The cash advance and balance transfer is 8% + prime rate (8% + 6.95% = 14.95%)
Purchase protection
Protect your new purchases from loss, theft or damage for up to 90 days after the date of purchase.
Extended warranty
Get up to double the manufacturer's warranty for most items purchased using your credit card.
Secure online purchases
Mastercard® ID CheckTM is a service that protects you against fraud by verifying your identity when making online purchases.
Fraud protection
Benefit from Mastercard's Zero Liability policy—you won't be liable for unauthorized transactions completed with your card.
Urban experiences
Enjoy unique experiences with Priceless Cities®. Get room upgrades, exclusive menus and many other surprises.
Editor's Review
National Bank Syncro Mastercard Review

Overview
The Syncro Mastercard's main advantage is reduced interest rates. Cardholders can take advantage of significantly lower costs of financing. There is an annual fee of $35 to use this credit card. Learn more below.


Key Features and Benefits
Annual fee of $35 and variable interest rates
Purchase protection, fraud protection and extended warranty coverage included
Access to Mastercard Priceless Cities, a special travel experience program

Pros
The interest rate is the prime rate plus 4% for purchases, currently sitting at 10.95% which is much lower than industry standards
Insurance protection
National Bank is rated as one of the best banks for customer service support

Cons
No rewards
Balance transfers and cash advances have a interest rate of 4% plus prime, currently sitting at 14.95% but still competitive compare to other credit cards.

Takeaway
The main benefit of the Syncro Mastercard is the reduced interest rates on purchases, cash advances and balance transfers which can help you save significantly compared to standard credit cards at 19.99% or 20.99% for purchase interest rate. The card is an excellent option for people who carry a balance each month on their credit cards. There aren't any other perks that come with this credit card. If you'd prefer access to some kind of rewards program, consider another credit card.
Legal notes :
® SYNCRO is a registered trademark of National Bank.
®Mastercard is a registered trademark, and the circles design is a trademark of Mastercard International Incorporated. Authorized user: National Bank
Prime rate and Interest details
The prime rate means the annual variable interest rate posted by National Bank, from time to time, and used by the Bank to determine the interest rates on the demand loans it grants in Canadian dollars in Canada.
The interest rate for the SYNCRO card consists of a variable prime rate set by National Bank plus a fixed adjustment rate of 4% for purchases and 8% for balance transfers and cash advances. Please note that the annual interest rate for the SYNCRO card will not be less than 8.9% for purchases and 12.9% for balance transfers and cash advances.
Credit terms
Grace period: No interest will be charged on purchases made during the month, provided the client pays the balance in full within twenty-one (21) days of the statement date. This grace period does not apply to cash advances or balance transfers. Minimum payment: If your account balance is lower than $10, you must pay the entire balance. If you reside in the province of Quebec, your minimum payment will correspond to 5% of the credit card account balance plus any overdue payment or $10, whichever amount is higher. If you reside outside of Quebec, your minimum payment represents 2.5% of the credit card account balance plus any overdue payment or$10, whichever amount is higher. Account statement: A statement is sent monthly.
Example of credit charges over a 30-day period
Annual interest rate

Average balance

$500

$3,000

22.49%

$9.24

$55.45

20.99%

$8.63

$51.76

12.90%

$5.30

$31.81

8.9%

$3.66

$21.95
*Variable interest rate in effect on September 1, 2021
Balance transfer and cash advance are subject to credit approval by National Bank. Each balance transfer must be at least $250.
Purchase protection and Extended warranty
This coverage applies to purchases charged to the National Bank Syncro card. Extended warranty coverage applies to most new items purchased with the card, in Canada or abroad, as long as the manufacturer's warranty is valid in Canada. Certain conditions and restrictions apply. For more information and for details of your insurance coverage, please consult the insurance certificate associated with your card.