National Bank World Elite Mastercard®

Welcome Bonus
Get 20,000 points when you get a World Elite Mastercard® and don't pay any annual fees for the first year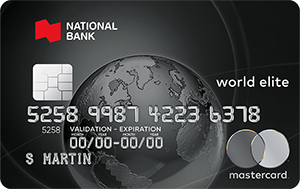 Card Details
National Bank World Elite Mastercard Review
National Bank's most exclusive credit card is the World Elite Mastercard.
Welcome Bonus
:
Get 20,000 points when you get a World Elite Mastercard® and don't pay any annual fees for the first year
(Offer ends ends May 31, 2022)
A refund of up to $250 per year on seat selection, airport parking and baggage fee
Unlimited access to the National Bank VIP Lounge at Montreal-Trudeau for you and a guest
Travel rewards you can benefit from during your next trip abroad or for your vacation closer to home, for example for a car rental
Your points can be exchanged towards a wide range of articles and gift-cards, a payment on your credit card balance or a donation to a good cause
Purchase protection such as purchase insurance, extended warranty on your purchases and fraud protection
National Bank ranks #1 among credit card issuers for Customer Experience according to the Forrester CX Index
The National Bank World Elite credit card offers you the equivalent of $1,167 in benefits and rewards the first year if you charge the minimum amount in purchases to your card. * The value of each benefit is set out below.


World Elite card + Red circle

Card with $ sign

Airplane

Gift

$1,167 value

A value over $350 in rewards points (with $2,500 in purchases each month)

$250 refund on your travel expenses and unlimited access with a guest to the National Bank Lounge (over $200 value)

Promotion:
Get 20,000 bonus rewards points following enrolment ($1,167 value on travel discounts) and pay no annual fees the first year for the main cardholder ($150 value) and for the first authorized user added to the account ($50 value)
Eligibility
To be eligible, you must have an annual gross income of $80 000 or an annual household income of $150 000. Otherwise, you must have a minimum value of $400 000 in assets or $25 000 in yearly minimum purchases (existing clients only) on your card.
Insurance
Priority airport services

No

Airport lounge access

Yes

Concierge service

No

Balance protection(Optional)

No

Purchase Security & Extended Protection Insurance

Yes

Flight delay insurance,Baggage Insurance

Yes

Vehicule rental insurance

Yes

Travel accident insurance

Yes

Travel medical insurance

Yes
Fees and Eligibility
Fees
Annual Fee:

$150

Additional Card Fee:

$50

Purchases Interest Rate:

20.99%

Cash Advance Interest Rate:

22.49%
Eligibility
Personal Income Required: $80000
Household Income Required: $150000
You're a Canadian resident
You've reached the age of majority in your province or territory
Recommended Credit Score:
Our Rating
Rating Methodology:
My Rate Compass's ratings are determined by our editorial team. Our editors rate credit cards objectively based on the benefits and features the credit card offers, interest rates, the fees, and how a credit card compares with other cards in its category.
Credit card rating methodology
Pros and Cons
More with your points
Make a payment on your card, make a donation or redeem your reward points for a gift card or financial product.
Extended warranty
Get up to triple the manufacturer's warranty for most items purchased using your credit card, up to 2 additional years.
Travel discounts
Redeem your points to pay for travel expenses, such as plane tickets, car rentals or vacation home rentals.
Access to the VIP Lounge at the airport
Unlimited access to National Bank Lounge
You and a guest can enjoy free access to the National Bank Lounge at Montréal-Trudeau Airport, with drinks, snacks, Wi-Fi and much more!
Travel expenses
Get a refund of up to $250 per year on seat selection, airport parking and baggage fees.
Comprehensive travel insurance
Enjoy up to 60 days' coverage with our travel, trip cancellation/interruption, or baggage loss insurance and up to 48 days for car rental insurance.
Editor's Review
Overview

National Bank's most exclusive credit card is the World Elite Mastercard. Cardholders can take advantage of exclusive travel perks and earn points under the À la carte Rewards Plan at an accelerated rate. Check out the other benefits below.
Key Features and Benefits


Annual fee of $150 and standard interest rates
Earn points towards the À la carte Rewards Plan while you spend
Earn 1.5 points per dollar spent on net purchases up to $40,000, earn 2 points per dollar spent on net purchases between $40,001 and $80,000, and earn 1.5 points per dollar spent over $80,001 in a year
Eligibility for a travel expense refund
Unlimited access to National Bank Lounge at the Montreal-Trudeau Airport for you and a guest
Minimum annual income of $80,000 for an individual or $150,000 for a household, OR have a minimum of $400,000 in assets, OR be an existing client that spends at least $25,000 per year
Extended warranty and comprehensive travel insurance coverage included
Pros
Access to a special travel agency and a dedicated online store under the À la carte Rewards Plan
Redeem points for merchandise, gift cards, vacation packages, plane tickets, travel experiences, À la carte Extras, or credit card statement credits
National Bank is rated as one of the best banks for customer service support

Cons
Tiered points earning system under the À la carte Rewards Plan
Minimum annual incomes, expenditures, or savings are required to apply for this credit card
Minimum credit limit of $5,000
Takeaway


The World Elite Mastercard is the most luxury credit card National Bank has to offer. There are tons of exclusive benefits that come with the card, but not everyone spends enough to take advantage of the perks or is willing to pay the annual fee. If you're more concerned with affordability, consider other National Bank credit cards.



®Mastercard, and World Elite are registered trademarks, and the circles design is a trademark of Mastercard International Incorporated. Authorized user: National Bank
Compare Credit Cards
Compare credit cards side by side and choose the best option to maximize cash back, rewards, pay down debt, and save money on interest.
Compare Cards

Help me Select a Credit Card
Find the credit card that is right for your needs and lifestyle by using our free credit card selector tool.
Find a Card