Plastk Secured Visa Credit Card

Welcome Bonus
New customers who sign up for a Plastk Secured Credit Card can earn 5,000 Plastk bonus reward points ($20) after 3 months of being a customer.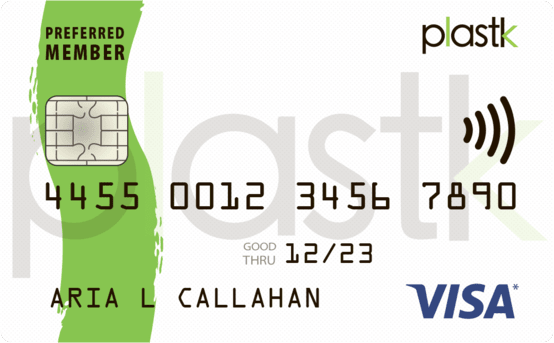 Card Details
Plastk Secured Visa Credit Card Review 2023
The newest and best way to build your credit and get rewarded for it.

Special Offer: Receive 0% Interest Rate on purchases for the first 3 months when you sign up for Plastk Secured Credit Card.


Card Features:
17.99% interest rate (which is one of the lowest in the secured credit card market)
25-day grace period with no interest
Free monthly credit score, powered by Equifax*
Zero Fraud Liability to ease your mind
Instant Balance Payment via Interac
APR on cash advance: 21.99%
Foreign Transaction Fee: 3.50%
Minimum Age: Age of majority in province/territory of residence
Minimum Deposit required for approval: $300
$6 Monthly Maintenance fee
Card Benefits:
Welcome bonus: new Customers get 5000 Rewards Points - $20 redeemable after 3 months*
Plastk Reward Points on everyday purchases
Quick and easy application process
Simple way to pay
Cash advances
Worldwide acceptance
Accepted at hotels and car rentals
Easy access to premium rewards
Helps improve credit score and knowledge
* Cardholder has to be in good standing, reward points redeemable after 3 months
Plastk Secured Credit Card is available all across Canada except Quebec.



Plastk Cash Advances:
You can now send money from your Plastk card to any Canadian credit or debit card, Canadian bank account or Plastk cardholder. There is a fee of $5 for each cash advance.
*Please note, you can send a MAXIMUM of $250 in a single transfer or $500 in a day. If your available limit is LESS than $250, you will only be able to send up to that limit. Available account funds will be shown in your account.
Insurance
Priority airport services

No

Airport lounge access

No

Concierge service

No

Balance protection(Optional)

No

Purchase Security & Extended Protection Insurance

NO

Flight delay insurance,Baggage Insurance

No

Vehicle rental insurance

No

Travel accident insurance

No

Travel medical insurance

No
Fees and Eligibility
Fees
Annual Fee:

$48

Additional Card Fee:

$0

Purchases Interest Rate:

17.99%

Cash Advance Interest Rate:

21.99%
Eligibility
You're a Canadian resident
You've reached the age of majority in your province or territory
Recommended Credit Score:
Our Rating
Rating Methodology:
My Rate Compass's ratings are determined by our editorial team. Our editors rate credit cards objectively based on the benefits and features the credit card offers, interest rates, the fees, and how a credit card compares with other cards in its category.
Credit card rating methodology
Pros and Cons
Secured credit card with a premium rewards program and credit insights
Build your credit and get rewarded for it
Get approved with imperfect credit
Plastk Secured Credit Card provides credit insights, powered by Equifax (podcast, blogs, videos) so customers can take control of their credit.
Points on everyday purchases
Quick and easy application process
Editor's Review
Plastk Secured Visa Credit Card Review

The Plastk Secured Credit Card is a new secured credit card with a premium rewards program that enables you to earn reward points on every purchase where Visa is accepted. There's no limit on how much you can earn, and the amount of reward points you earn does not depend on the category the merchant uses to classify your purchase.
There are many redemption options such as statement credits, merchandise, gift card, travel rewards, and charity donations. In addition, the card provides credit insights to take control of your credit and get rewarded for it.
The Plastk Secured Credit Card can help you build credit since it reports to credit bureaus like Equifax and Transunion, so as you use your card responsibly, you will build your credit history.
Overall, it is a great credit card for those who would like to establish or rebuild credit (People with challenged credit, new immigrants and students with no credit history).


The Plastk Secured Credit Card allows users to establish and build credit. You will be required to make a deposit to use this financial product. Whatever amount you make as a deposit will become the credit limit. Individuals with imperfect credit are still eligible for this card. There is a $48 annual fee and a $6 monthly maintenance fee. The interest rate is 17.99% which is slightly lower than the 19.99% industry standard. For the first three months of card ownership, the APR is 0% on purchases.
As you spend, you earn points which are convertible into cash back rewards at a rate of 250 points to $1. You must have a minimum of 2,500 points to make a redemption. It is possible to transfer points to another cardholder through the Plastk portal. There is currently a sign-up bonus of 5,000 points which is worth $20. The bonus points will become available to you after three months of card ownership. There is also the opportunity to earn additional points through Plastk's referral program.
There are a few other perks associated with this card. You can access your monthly credit report with Plastk powered by Equifax. The card also comes with Zero Fraud Liability and the ability to send funds through Interac e-transfer.
DISCLAIMERS


1. DCB Disclaimer needs to be added on pages, blogs, photos where the card is present or wherever DCBank
or "Visa" is mentioned
*Visa International and Digital Commerce Bank do not provide any of the services or benefits related to the Plastk
rewards program. The terms and conditions applicable to these services or benefits are contained in the agreement
between you and Plastk Financial & Rewards Inc. All credit Issued by Plastk Financial & Rewards Inc. This card is
owned and issued by Digital Commerce Bank, pursuant to license from Visa International. Use of the card is
governed by the agreement under which it is issued. The Visa Brand is a registered trademark of *Visa
International.


2 "Equifax Canada Co. ("Equifax") is a registered Canadian credit bureau that maintains your Canadian consumer
credit file, which has been used by Plastk Financial & Rewards Inc. as permitted by you, to provide you with your
educational Equifax credit score. The Equifax credit score provided here is current as of the date indicated by Plastk
Financial & Rewards Inc. "


*the Equifax Risk Score [or Equifax credit score] is based on Equifax's proprietary model and may
not be the same score used by third parties to assess your creditworthiness. The provision of this
score to you is intended for your own educational use. Third parties will take into consideration other information in
addition to a credit score when evaluating your creditworthiness."
Compare Credit Cards
Compare credit cards side by side and choose the best option to maximize cash back, rewards, pay down debt, and save money on interest.
Compare Cards

Help me Select a Credit Card
Find the credit card that is right for your needs and lifestyle by using our free credit card selector tool.
Find a Card