Refresh Financial Secured Credit Card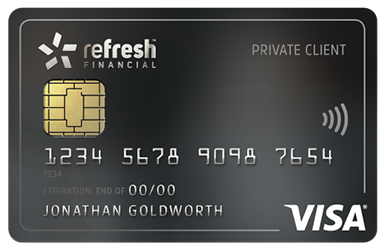 Card Details

This card is no longer o by the provider, check our list of secured credit cards





Refresh Financial's Secured Visa Card helps you establish and rebuild your credit and improve your credit score.
Anyone with little or no credit, bankruptcy and consumer proposals can apply.
All you need is a security deposit to get approved. As you use your card and make monthly payments on time, they are reported to the credit bureaus and this builds your credit score.


The Refresh Financial Secured Card combines the premise of the credit builder loan with the same benefits of a credit card. In this case, you are almost guaranteed approval, which cannot be said for other types of secured credit cards. So while it does work like any other credit card, the main difference is that you have to place a security deposit on the card. This works better for many people compared to the credit builder loan as it allows you to use the credit available on the card. It's an excellent option if you have bad credit and want a card to make online purchases or say secure a hotel room.
The minimum deposit is $200 which is also a bonus as many other secured cards require $500. You can also slowly increase your deposit which in turn increases your credit limit to up to $10,000. However, for the secured credit card you have to also consider the fees. While the interest rate is lower at 17.99% compared to the 19.99% of the credit builder loan, you also have to pay out the following:
An annual fee of $12.95
A monthly fee of $3
$0.10 for every declined transaction
$5 fee to use an ATM/ cash advance
A monthly inactivity fee of $2 for every month that you don't use your card
As far as secured credit cards go, this one tends to come out ahead. It is ideal if you need access to a credit card, can afford the security deposit and intend to pay it back in a timely manner.
Insurance
Priority airport services

No

Airport lounge access

No

Concierge service

No

Balance protection(Optional)

No

Purchase Security & Extended Protection Insurance

NO

Flight delay insurance,Baggage Insurance

No

Vehicle rental insurance

No

Travel accident insurance

No

Travel medical insurance

No
Fees and Eligibility
Fees
Annual Fee:

$12.95

Additional Card Fee:

$0

Purchases Interest Rate:

17.99%

Cash Advance Interest Rate:

17.99%
Eligibility
You're a Canadian resident
You've reached the age of majority in your province or territory
Recommended Credit Score:
Our Rating
Rating Methodology:
My Rate Compass's ratings are determined by our editorial team. Our editors rate credit cards objectively based on the benefits and features the credit card offers, interest rates, the fees, and how a credit card compares with other cards in its category.
Credit card rating methodology
Pros and Cons
Easiest approvals
As a secured credit card, there are no credit checks. All you need is a deposit and you are approved!
Lowest fees
When building your credit, start where you are comfortable and scale up when you are ready.
Lowest interest rates
Competitive rates will ensure you keep your payments manageable.
Free Financial Education
With Refresh f.i.t. (Financial Intelligence Training) you have access to online courses that educate you about smarter money management.
Boost your credit
Using your VISA will help build your credit history and put your financial goals within reach.
Editor's Review
Refresh Financial Secured Visa Credit Card Review
The Refresh Financial Secured Credit Card allows users to establish and build credit. You will be required to make a deposit to use this financial product. Whatever amount you make as a deposit will become the credit limit. Refresh Financial has a minimum credit limit of $200 and a maximum of $10,000. The interest rate is 17.99% which is slightly lower than the 19.99% industry standard. The annual fee is $12.95 and the monthly maintenance fee is $3 per month.
The main benefit of using Refresh Financial's secured card is they provide tools that help you actively build credit. There are tools that show your spending and repayment habits and how they impact your credit score. The focus is the utilization rate. By using these tools, you can establish and build credit faster.

Overall it is a great credit card to establish and rebuild credit. It does not require a credit check, making it the perfect card for those with little or no credit, poor credit scores and bankruptcy history.
* This card is owned and issued by Digital Commerce Bank pursuant to license by Visa International. Use of the card is governed by the agreement under which it is issued. The Visa Brand is a registered trademark of Visa International. All credit and approvals are provided by Refresh Card Solutions Inc. Digital Commerce Bank provides no credit or loans. All funding and lending for this program is provided by Refresh Card Solutions Inc.
For full terms and conditions of the Refresh Financial Visa Credit Card visit:?https://refreshfinancial.ca/credit-card-terms-and-conditions
Compare Credit Cards
Compare credit cards side by side and choose the best option to maximize cash back, rewards, pay down debt, and save money on interest.
Compare Cards

Help me Select a Credit Card
Find the credit card that is right for your needs and lifestyle by using our free credit card selector tool.
Find a Card