Scotia Momentum for Business VISA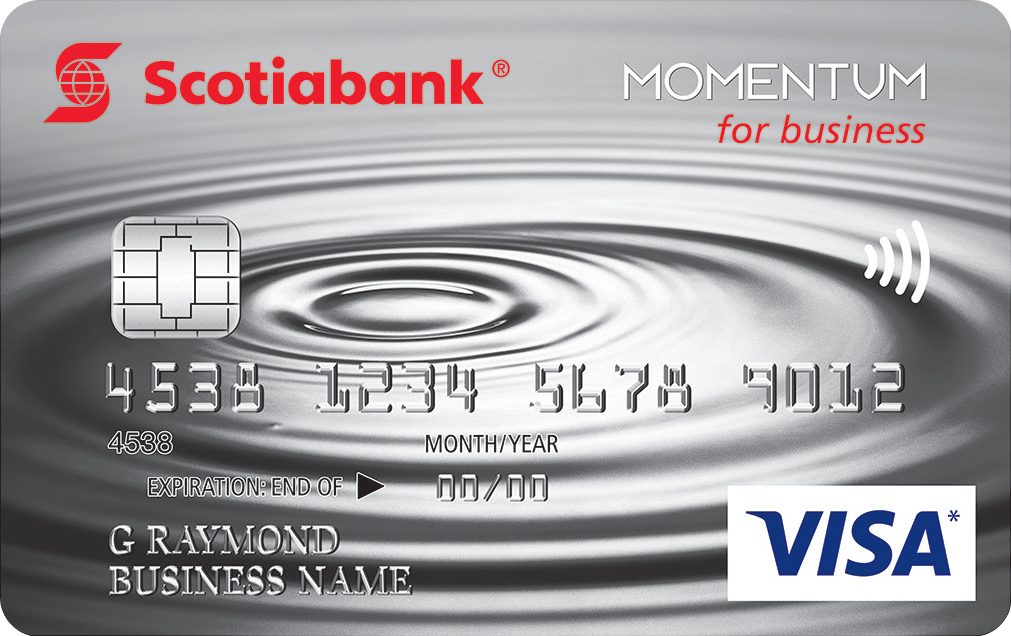 Card Details
Scotiabank Momentum® for business Visa* Card review


Great Reasons To Get This Card For Your Everyday Business Purchases
3%
Gas Stations
3%
Restaurants
3%
Office Supplies
3%
Recurring Bill Payments
Plus, Earn cash back On All Other Eligible Business Purchases
Insurance
Priority airport services

No

Airport lounge access

No

Concierge service

No

Balance protection(Optional)

No

Purchase Security & Extended Protection Insurance

Yes

Flight delay insurance,Baggage Insurance

No

Vehicle rental insurance

Yes

Travel accident insurance

Yes

Travel medical insurance

Yes
Fees and Eligibility
Fees
Annual Fee:

$49

Additional Card Fee:

$29

Purchases Interest Rate:

19.99%

Cash Advance Interest Rate:

22.99%
Eligibility
You're a Canadian resident
You've reached the age of majority in your province or territory
Recommended Credit Score:
Our Rating
Rating Methodology:
My Rate Compass's ratings are determined by our editorial team. Our editors rate credit cards objectively based on the benefits and features the credit card offers, interest rates, the fees, and how a credit card compares with other cards in its category.
Credit card rating methodology
Pros and Cons
Save when you shop
With Visa SavingsEdge receive discounts on your business purchases.
Organize and track business expenses
Spending on your Scotia Momentum for business Visa Account is consolidated into one monthly statement. Transactions made by Supplementary Cardholders are easily identified on your statement.
Start a cash flow
Make the most of your card. Consolidate all your recurring payments on your card and turn them into cash back rewards!
Editor's Review
The Scotiabank Momentum® for business Visa* Card is an appealing cashback card for business owners in Canada who want to get back as much as 3% for all of their purchases. This unique card comes with a $49 annual fee and 22.99% interest rate on cash advances, credit card cheques and balance transfers. However, that's pretty much the only negative aspect about it.
In terms of positive aspects, this card offers you up to $100k in credit limit, gives you supplementary cards, and a whopping 3% back on food, gas and other purchases. It also lets you benefit from a first-year annual fee waiver.
To get onboard, Scotiabank gives you a unique 6-month 2.99% rate which is perfect for balance transfers and paying off your debt. In terms of complimentary services, this credit card allows you to save when shopping thanks to the Visa SavingsEdge, better organize and track your business expenses, consolidate your debt, add unlimited employees for $29, and get many other perks.
Scotiabank Momentum® for business Visa* Card gives you up to $1 million travel insurance, $500 per flight delay, $500k as carrier insurance, $1,250 per lost baggage per group, and $1,000 in hotel/motel burglary.
The Scotiabank Momentum Business Visa helps business owners organize and track expenses with ease while rewarding them for everyday purchases. With up to 3% cash back and an introductory low balance transfer rate, this business credit card is ideal for startups with pre-existing debt and business owners looking to expand.
Eligibility and Exclusions:?Individuals who are currently or were previously primary or secondary cardholders of a Scotiabank small business credit card in the past 2 years, including those that switch from an existing Scotiabank small business credit card, as well as employees of Scotiabank, are not eligible for the 2.99% introductory interest rate offer (the ?Offer?). Subject to the above exclusions, Scotiabank retail credit cardholders are eligible for the Offer.?

Offer Description and Conditions:?The introductory 2.99% interest rate applies only to cash advances (including balance transfers, Scotia? Credit Card Cheques and cash-like transactions) (collectively ?Cash Advances?) subject to the conditions below (the ?Offer?).? This rate applies when the new Scotiabank credit card account (?Account?) is opened by October 31, 2019 and will continue for 6 months from Account opening date (the ?Promotional Period?).? This Offer cannot be used to transfer a balance from another Scotiabank Account, or to make a payment or deposit to another Scotiabank Account.? After the Promotional Period, the 2.99% interest rate on any promotional balance transfers (including any that remain unpaid after the Promotional Period ends) will increase to the preferred interest rate on Cash Advances (currently 22.99%). If you don?t pay the minimum payment on your Account by the payment due date on your statement, two times in any consecutive 12-month period, you will lose the benefit of this promotional rate Offer and the interest rates that apply on any unpaid balance will increase to the standard annual interest rates that apply to your Account (currently 24.99% on purchases and 27.99% on Cash Advances).?

Payment Allocation: In general, if you make a payment that exceeds the minimum payment on your statement, we will apply your payment on a proportionate basis among each group of billed charges on your Account. We group charges based on the interest rate that applies to the group of charges. Your payment cannot be applied to the balance(s) of your choice. See your credit card agreement for more information about how we apply payments to your Account.?

Rates and Fees:?A Balance Transfer fee of 0% of the amount of each Balance Transfer transferred during the Promotional Period applies to this Offer.

The current annual fee is $49 for the primary card and $29 for each additional supplementary card.?The current preferred annual interest rates for the Account are: 19.99% on purchases and 22.99% on Cash Advances.??All rates, fees, features and benefits are subject to change.? Offers may be changed, cancelled or extended and cannot be combined with any other offers.

2

Not including cash advances, balance transfers and Scotia Credit Card cheques. Provided that you pay your balance in full by the payment due date.

4

For current rates and information on fees and interest cost, call 1-888-882-8958. Interest rates, annual fees and features are subject to change without notice.

5

Visa SavingsEdge is an automated discount program offered by Visa Canada Corporation ('Visa Canada') to eligible businesses and their authorized cardholders that hold an eligible Visa Business card and whose enrollment in the program is accepted by Visa. Under the program, cardholders can receive discounts from participating merchants each time the cardholder uses an enrolled Visa Business card to make qualifying purchases of goods or services pursuant to an active discount offered by the merchant and that transaction is processed or submitted through the Visa payment system. Discounts provided will appear as credits on future credit card statements 8-10 weeks after purchase date. Visa Canada, not Scotiabank, is responsible for the Program. For details, visit?www.visasavingsedge.ca. The following Scotiabank VISA Business cards are eligible for this program: Scotia Momentum for business Visa* card, Scotia Gold Passport for business Visa* card, ScotiaLine for business Visa* Card and Scotiabank Visa* Business Card.

6

You are liable for all charges incurred on your account with any supplementary card issued in connection with the account. When you request Scotiabank to issue a supplementary card, we will also issue renewal and replacement cards for such supplementary card, unless the card is cancelled by you or Scotiabank. A Supplementary Cardholder's signature on or use or retention of the supplementary card issued in his or her name shall evidence your receipt of the agreements relating to the account and your acceptance of their terms.

7

Insurance coverage is underwritten by American Bankers Insurance Company of Florida (ABIC) and/or American Bankers Life Assurance Company of Florida (ABLAC). Travel Emergency Medical Insurance is underwritten by ABLAC, except for travel in Cuba which is underwritten by Zurich Insurance Company Ltd. The Bank of Nova Scotia is not an insurer. All claims for insurance indemnities must be forwarded to the respective insurers. Details of the coverage, including definitions, benefits, limitations, and exclusions are in the Certificate of Insurance provided with the card. Read the Certificate of Insurance then keep it in a safe place with your other valuable documents, and take it with you when you travel.

8

Scotia Business Loan Protection is a Group Policy underwritten by The Canada Life Assurance Company. All coverage is subject to the terms and conditions outlined in the Certificate of Insurance which you will receive upon enrolment. If you are approved for coverage you may take up to thirty (30) days to review the details of the coverage. If you cancel within thirty (30) days of your coverage effective date any premium paid will be refunded. For more information simply call 1-855-753-4272 between 8:00 am and 8:00pm ET and one of our Insurance Customer Service Representatives will be pleased to assist you.

?

Registered Trademark of The Bank of Nova Scotia

Visa Int./Licensed. User.