Scotiabank®* Platinum American Express® Card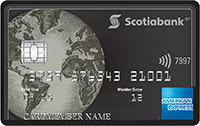 Card Details
Scotiabank®* Platinum American Express® Card review

Great reasons to get this Card for your everyday purchases
Reach your goals 4x faster
Earn 4 Scotia Reward points on every $1 you spend at eligible gas stations, grocery stores, on dining and entertainment.
Earn 1 point for every $1 you spend on everything else.
Book travel and redeem easily
Use your Card and book travel through Scotia Rewards Travel Service, our full-service travel agency.
Redeem for travel anywhere, anytime, with no travel restrictions.
Enjoy exclusive benefits
Access to complimentary concierge services, airport lounges, Hertz #1 Club Gold membership, merchandise, rewards and more.
Peace of mind for every trip
Travel with confidence on every trip with our comprehensive travel insurance coverage
Insurance
Priority airport services

Yes

Airport lounge access

Yes

Concierge service

Yes

Balance protection(Optional)

No

Purchase Security & Extended Protection Insurance

Yes

Flight delay insurance,Baggage Insurance

Yes

Vehicule rental insurance

Yes

Travel accident insurance

Yes

Travel medical insurance

Yes
Fees and Eligibility
Fees
Annual Fee:

$399

Additional Card Fee:

$0

Purchases Interest Rate:

19.99%

Cash Advance Interest Rate:

22.99%
Eligibility
You're a Canadian resident
You've reached the age of majority in your province or territory
Recommended Credit Score:
Our Rating
Rating Methodology:
My Rate Compass's ratings are determined by our editorial team. Our editors rate credit cards objectively based on the benefits and features the credit card offers, interest rates, the fees, and how a credit card compares with other cards in its category.
Credit card rating methodology
Pros and Cons
Enjoy Premium Concierge Services
For everything from restaurant reservations to show tickets to finding the perfect birthday gift, your full-service travel and lifestyle Concierge Service is happy to assist, 24/7.
Ensure your comfort at the airport
Be confident that you'll have a place to relax or catch up on business. Enjoy complimentary lounge access with Priority Pass and access over 600+ VIP lounges around the world.
See unique global events with your VIP Pass
Get exclusive access to Fashion Week in New York City, golf at Pebble Beach, custom menus by celebrity chefs and much more. Choose from a full menu of events and get the red carpet treatment.


Special Offers with Scotia Rewards® Travel Advantage
Your Card extends to you extraordinary discounts, offers, special amenities and privileges. Visit?Scotia Rewards?to take advantage today.
Be a Hertz #1 Club Gold Member
Enjoy speedier service, less paperwork, and other special privileges and benefits at over 8,500 locations across 147 countries.
Editor's Review
The Scotiabank Platinum American Express® Card is definitely not your average Scotiabank card. This card has a high annual fee. However, the rewards are simply exceptional.
First of all, this card gives you 4 points of Scotia rewards for every $1 you spend on dining, entertainment, groceries and gas. Second, it offers you some exquisite travel privileges. Third, you get 30,000 points the moment you make your first purchase.
This card costs $399, with the supplementary cards each costing $99. The interest rate for this card is the regular one, with 19.99% for purchases and 22.99% for cash advances.
In terms of features, the Scotiabank Platinum American Express® Card offers you the following:
- Premium concierge services
- Priority pass when travelling and access to 600+ VIP lounges all across the globe
- Leverage the American Express Invites program to be the first one to discover unique events and experiences happening in your city
- Use your VIP pass to gain priority entrance at worldwide events
- Use the Scotia rewards advantage to enjoy new offers
- Capitalize on the Hertz club membership for improved services
Scotiabank®* Platinum American Express® Card is a premium credit card with exclusive benefits and 7 types of insurance coverage.
Aside from its high return rates, the Scotiabank®* Platinum American Express® Card provides an impressive list of purchase and travel insurance benefits that justifies the annual fee. The best credit card for insurance coverage in Canada, it provides peace of mind and comprehensive protection on the road and the longest extended warranty and purchase protection.
*See Card Provider's website and Card Application for complete card details, terms and current offers. Reasonable efforts are made to maintain accuracy of information.

? Eligibility and Exclusions: Individuals who are currently or were previously primary or secondary cardholders of a Scotiabank retail credit card in the past 2 years, including those that switch from an existing Scotiabank retail credit card, as well as employees of Scotiabank, are not eligible for the 30,000 bonus Scotia Rewards point offer (the ?Offer?). Subject to the above exclusions, Scotiabank small business credit cardholders are eligible for the Offer.

Offer Description and Conditions: To be eligible for the 30,000 bonus Scotia Rewards points offer (the ?Offer?), an eligible purchase must be posted to your new Scotiabank credit card account (?Account?) within 2 months of your Account open date. Eligible purchases include purchases (less any refunds, returns or other similar credits) but do not include payments, cash advances (including balance transfers, Scotia? Credit Card Cheques or cash-like transactions), interest, fees or other charges. The bonus points will appear as an adjustment on your Account statement within 2 statement cycles of your first card purchase provided the Account is open and in good standing at time of payout. The Account is considered in good standing if it is not delinquent (past due) or over limit and the Cardholder(s) is not in breach of the Revolving Credit Agreement that applies to the Account. Offer applies to a new Account only opened by March 1, 2020.

Rates and Fees: The current annual fee is $399 for the primary card and $99 for each additional supplementary card.
The current preferred annual interest rates for the Account are: 19.99% on purchases and 22.99% on cash advances (including balance transfers, Scotia? Credit Card Cheques and cash-like transactions).
All rates, fees, features and benefits are subject to change. Offers may be changed, cancelled or extended and cannot be combined with any other offers.