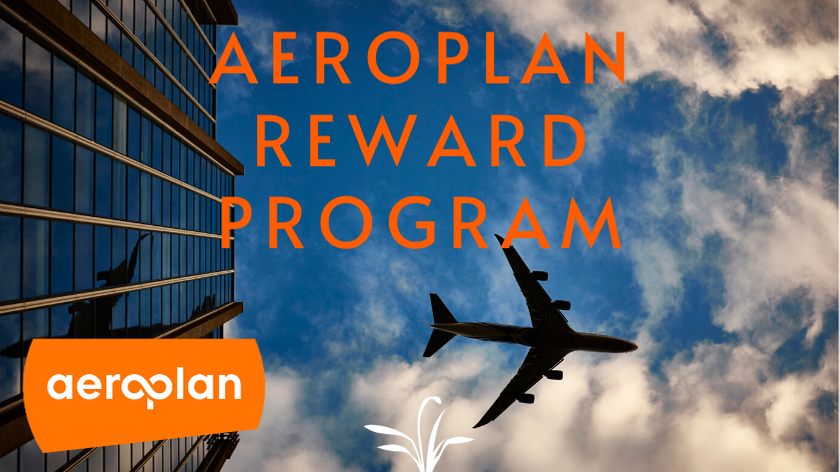 The Aeroplan Program Overview
In Canada, there are various programs that allow you to earn and redeem points for travel, experiences and merchandise. Aeroplan is among these programs and is one of the most popular choices in Canada. Whether you're an existing member or considering joining the program, you can learn everything you need to know about earning, redeeming and optimizing your Aeroplan points below.
What is the Aeroplan Program?
The Aeroplan program is a travel loyalty program owned by Air Canada. The program is an incentive program for frequent flyers that comes with an array of perks including the ability to collect points on travel and shopping purchases that can be used to redeem travel, experiences and merchandise.
How to Earn Aeroplan Points
Before you can take advantage of the Aeroplan program, you need to have some points in your balance! To earn Aeroplan Points, you have two options: shop with Aeroplan partner vendors and use an Aeroplan credit card.
You can use one or both options, it all depends on your lifestyle and spending habits. The great thing about Aeroplan is you can earn double the points on a purchase! This is called "double dipping" and you can do so by claiming points with your Aeroplan card then paying with an Aeroplan supported credit card.
Shop with Aeroplan Partner Vendors
Aeroplan has a long list of partner vendors, you can search for vendors here. Chances are you already shop with some of the vendors, you just need to get into the habit of presenting your Aeroplan card when you shop to earn points. Some common vendors include Air Canada, Sephora, Courtyard by Marriott, Hudson's Bay Company and Budget Car Rental.
Some vendors only allow you to earn Aeroplan points online, not in store. An example of this is Costco, anything purchased in store won't earn Aeroplan points, but purchases online will earn points.
If you shop online a lot, you can use the Aeroplan eStore here. The great thing about the Aeroplan eStore is vendors have Aeroplan point promotions and varying earning rates. Etsy, Dyson and Indigo are some examples of vendors you can shop with through the Aeroplan eStore.
Aeroplan Credit Card
Various banks have partnered with the Aeroplan program to allow card holders to earn points while they spend on everyday purchases. Below are various Aeroplan credit cards available in Canada along with their earning rates.
How to Redeem Aeroplan Miles
After earning Aeroplan points, you'll eventually collect enough points to make a redemption. Aeroplan points can be redeemed online by logging in here. Points can be redeemed for travel and merchandise. There truly is something for everyone!
For travel, points can be redeemed with any Star Alliance member which includes airlines like Air Canada and United. You can also use points for travel related purchases such as car rentals, hotels, experiences and vacation packages.
If you'd rather redeem your points for merchandise, you have a wide array of options from cooking utensils to clothing to electronics. If you'd prefer, you can use your points to purchase a gift card for eligible stores as well. Keep in mind that you receive the best value when you use your points for travel purchases.
What is the Aeroplan Points Chart?
Naturally, the Aeroplan program is popular among travellers. When planning a vacation, a traveller might wonder, how many points do I need to fly where I want to go? Aeroplan created a chart that gives you a guideline of how many points you need to fly which is referred to as the Aeroplan points chart. The chart allows you to look up the amount of points you need based on your start and ending destination. Although, there are some additional factors to consider.
When you book a flight with your Aeroplan points, you have two choices: you can book with the fixed mileage option or the market fare rewards. The fixed mileage option is the most common way to book and it is available with all Star Alliance member flights. The number of points required per route do not change throughout the season which is an immense benefit. However, the flights are not always the best. Seating is often limited meaning you'll need to book your flight well in advance. In addition, the trip can take a lot longer due to the routes and layovers.
On the other hand, you can book using the market fare rewards option. This option has a lot more flexibility and offers but is restricted to Air Canada flights only. Because of the airline restriction, the market fare rewards option isn't as popular as the fixed mileage option. Also, market fare flights tend to be two to three times more expensive in points. It is quite rare to find a market fare flight that is cheaper than a fixed mileage flight, but not impossible.
Optimizing the Value of Aeroplan Points
While you're out in the world spending and earning Aeroplan points, you might be wondering what the value of a point is. Unfortunately, there isn't a "one-point equals this much" formula. A point's value depends on a lot of factors such as what the points are being redeemed for and the time of year they're redeemed.
In general, Aeroplan users get the most value when they use points for flight purchases. The least value comes from car rental purchases. These are very basic guidelines, there are other redemption factors that impact the value of Aeroplan points. For example, domestic flights (usually including flights to the USA and within Canada) tend to have better value than international flights.
If you take the time to learn the rules of Aeroplan inside and out, there are other tricks you can use to optimize your points. For instance, Aeroplan allows you to fly to one destination with two stopovers meaning a stop of 24 hours or longer. You can also have up to 13 layovers which equates to a stop of 24 hours or less. The destination is the furthest city which means you could book one flight with ample stopovers which would optimize the amount of destinations you visit in one trip. For example, you could do one week in Japan, Thailand and Vietnam with one redemption ticket which is an excellent use of points.
The bottom line is you'll need to get creative and do some research on how to use your points to get the greatest value. The best way to assess value is considering the cost per point used. You can do this by finding the price of the flight and the required Aeroplan points needed to purchase the same flight. Generally, one Aeroplan point is equal to 1.4 cents. If you can obtain equal or greater value when purchasing a flight, you're making good use of your points.
Using the Aeroplan Program to Your Benefit
Earning points with Aeroplan is rather straightforward, but the redemption process takes a bit of extra work, especially if you want to get the most bang for your buck. When you're planning your next vacation, be prepared to crunch some numbers to get the best value!






Frequently Asked Questions
The Aeroplan program can be confusing with all of the rules and regulations within it. Below are frequently asked questions and corresponding responses to reduce your confusion!
What Happens If I Cancel an Award Flight?
You will not lose your points so long as you cancel at least 2 hours prior to departure. However, you will be required to pay a $125 fee plus applicable taxes to cancel your award flight and get your points back. You will also be charged another $100 to make adjustments to your travel for each change of direction of travel. You can cancel your award flight free of charge only if you cancel within 24 hours of booking the flight.
How Many Aeroplan Points Does it Take to Fly?
Unfortunately, there isn't a golden number of points you need to fly. You can use Aeroplan's point chart to get an estimate of how many points you need based on where you're starting and where you're going. The cheapest flight you can get according to the point chart is 15,000 to give you an idea!
Do These Aeroplan Points Expire?
Rewards do not expire as long as your account remains active. You can keep your account active by performing one transaction per year. This can be earning or redeeming points. So long as you're actively using your Aeroplan card or Aeroplan credit card, you don't have to worry about your points expiring.
Can You Use Aeroplan Points to Cover Taxes & Fees?
Points cover taxes and fees for hotel and car rental purchases. For flights, you have the option to use your points for taxes and fees. If you choose to cover taxes and fees on flights with points, the value goes down significantly. When using points to cover flight taxes and fees, each point is worth 0.7 to 0.8 cents when compared to the regular 1.4 cents.
Can Aeroplan Points Be Transferred to Another Program?
No, rewards can't be transferred to other programs. There are some programs, such as American Express and Marriott Bonvoy, that allow you to transfer points into Aeroplan.
Can I Give My Aeroplan Points to Another Person?
Aeroplan points can be transferred to another person who is an Aeroplan member. Although, to complete the transaction there is a fee of 2 cents per point transferred. You can only complete these transactions five times per year. The transaction can be completed online instantly through your online portal once you login here. Since the fee is so high, you're better off collecting points individually instead of trying to pool them together.
Is There a Way to Earn Aeroplan Points Faster?
Yes, you can use both your Aeroplan card and an Aeroplan credit card for one purchase to earn double the points. You can consider getting a credit card which earns points at an accelerated rate on everyday purchases to earn even more.
Can I Lose My Aeroplan Points?
You can only lose Aeroplan points if your account remains inactive for 12 consecutive months. If you don't earn or redeem points for a year, your account will be closed and you'll lose all your Aeroplan points.
How Do I Access My Aeroplan Login?
You can login here. If you do not know your Aeroplan number or password, contact Aeroplan to reset it. Aeroplan recently launched an app, you can login through the app as well.
How Can I Contact Aeroplan?
You can contact Aeroplan at 1-800-361-5373. For other contact information, visit this page.
Is Aeroplan Right for Me?
Aeroplan is a very popular travel rewards program in Canada because you can earn points on most of your purchases and put them towards your next vacation. However, that doesn't mean Aeroplan is right for you. Everyone's financial needs and circumstances are unique, what might be right for you may not be right for someone else. For instance, if travel isn't your thing, you likely won't get a lot of value out of the Aeroplan program. Take a moment to assess your finances and lifestyle to determine whether Aeroplan is right for you.