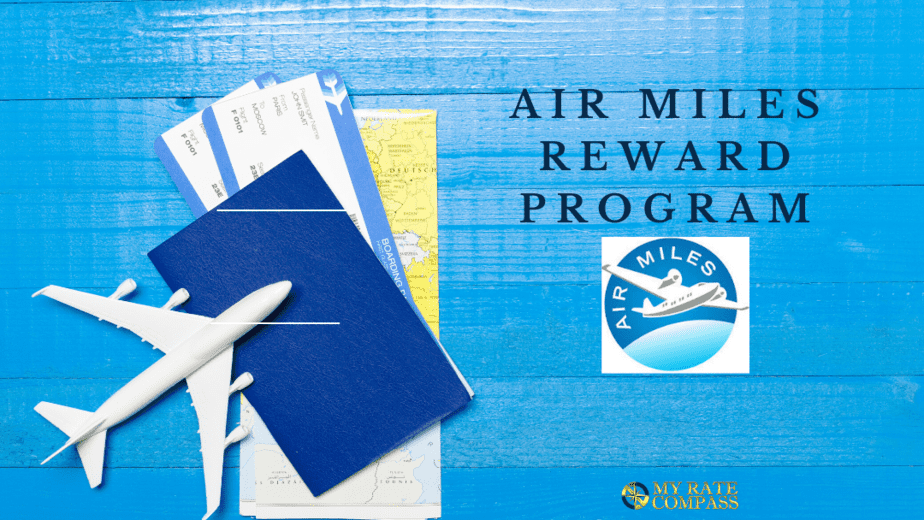 In Canada, there are various travel loyalty programs, one of which is the Air Miles program. Perhaps you're an existing Air Miles member and want to learn more, or maybe you're entirely new to the program. Regardless, you can learn all about the Air Miles program in this guide, such as the different types of Air Miles, how to earn and redeem points, how many you need for a flight and much more. The Air Miles loyalty program can benefit your finances in many ways!
Types of Air Miles
Air Miles is a loyalty program offered in Canada. The points collected in this loyalty program can be used for rewards including travel, electronics, cashback, entertainment and much more. Over the years, Air Miles has diversified their loyalty program offerings. Let's explore the different types of Air Miles below.
Air Miles
Points that you collect to redeem rewards under the loyalty program are Air Miles. Air Miles can be collected as either Dream Miles or Cash Miles, or both. It is entirely up to you how you collect points and how points are divided between Dream and Cash Miles. If you ever want to change your preferences, you can do so online.
Dream Miles
Dream Miles can be put towards merchandise and experiences. Hotels, flights, vacation packages at redtag.ca, cruises and car rentals can all be purchased using Dream Miles. For every 909 Dream Miles you earn, you'll get $100 off your booking. Whatever you book, you'll still earn Air Miles even with the applied discount.
Cash Miles
Cash Miles can be used as a discount for in-store purchases at participating stores. If you want to make a purchase online, you can use an eVoucher to obtain the same discount that you'd receive in store. The eVouchers can be found on your online Air Miles account.
You will need a minimum of 95 Cash Miles to earn a $10 discount in store or online. You can earn incremental $10 discounts for every 95 Cash Miles you have, but you must use your Cash Miles in these increments. The maximum amount you can use in discounts is $750 per account and per day. A list of participating Air Miles stores can be found here.
How Many Air Miles Are Needed for a Flight?
Air Miles considers distance when determining the redemption rate for flights. You get the most bang for your buck when you use Dream Miles for short haul flights. As an example, you'll need approximately 1,700 points for a Toronto to New York City flight and approximately 4,000 points for a Calgary to San Francisco flight. These point amounts can fluctuate based on whether it's high or low season.
As you can see, there isn't really a fixed amount of points you need for a flight because there are a lot of factors that go into the calculation. In addition, airlines set aside a finite amount of seats for loyalty program flyers. This means your choices are more limited when compared to purchasing them on the regular market.
How Can You Earn Air Miles?
You can earn Air Miles by:
Using an Air Miles credit card;
Shopping at participating stores; or
Buy them directly from airmiles.ca.
The first two are the most common ways to earn Air Miles on a regular, daily basis. The last option is commonly used by individuals who have their eye on a flight and only need a few more points to book it using their earned Air Miles. The basic earning rate is 1 Air Mile for every $20 spent.
American Express AIR MILES Credit Card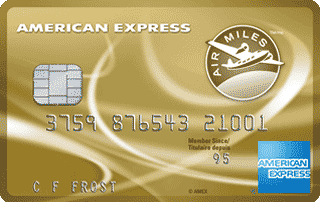 Welcome Bonus: Earn a Welcome Bonus of 500 AIR MILES Reward Miles
Annual Fee: $0
Additional cards are free

Purchases Interest Rate: 20.99%
Cash Advance Interest Rate: 21.99%

American Express will give you 500 Air Miles when you spend $500 or more within the first three months of owning the card. This is quite an achievable spending requirement for most! After the promotion ends, you'll earn one Air Mile for every $15 spent on sponsors of Air Miles and one Air Mile for every $20 spent elsewhere. Lastly, card holders earn an additional 500 Air Miles when they refer someone to the credit card.
Air Miles can be redeemed on flights and a wide range of other rewards including sports tickets, electronics, other travel items and much more. Essentially anything for sale in an Air Miles store can be purchased using your points, so long as you have earned enough points of course!
On top of the Air Miles benefits, card holders will also reap the benefits of banking with AMEX. This includes purchase protection, Insider Access, travel accident insurance, extended warranty, Front of the Line advance ticket purchases and reserved seating. All of this comes with no annual fee and no income requirements!
American Express AIR MILES Platinum Credit Card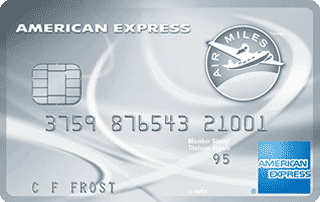 Welcome Bonus: Earn a Welcome Bonus of up to 2,000 AIR MILES®* Bonus Miles


Annual Fee: $120
Purchases Interest Rate: 20.99%
Cash Advance Interest Rate: 21.99%
Owners of the American Express Air Miles Platinum credit card earn one Air Mile for every $5 spent on eligible expenses. These expenses include food, drinks, groceries, gas, ride share and transit purchases in Canada, to name a few. Card holders also earn 1 Mile for every $10 spent on non-eligible purchases.
When it comes to points redemption, card holders can use them to purchase flights, merchandise, electronics, hotels, car rentals, among many other things. In addition, card holders will get 25% bonus Miles, based on how many you're spending, on their first single flight or vacation package purchased through Air Miles once per calendar year. This once a year offer caps at 750 Air Miles, but still will contribute to one of your annual trips!
Card holders also benefit from Front of the Line, Insider Access, travel insurance and shopping insurance from American Express. There are also no income requirements, aside from paying the annual fee of $120.
BMO® AIR MILES®† World Elite®* Mastercard®*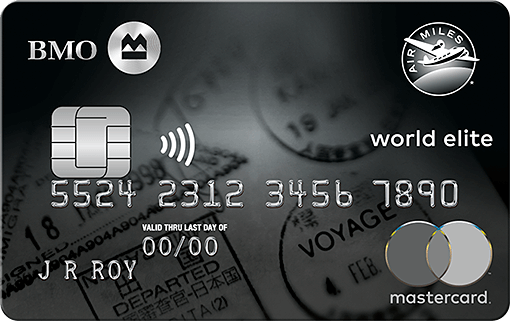 Welcome Bonus: Earn a Welcome Bonus of 2,000 AIR MILES®* Bonus Miles

Annual Fee: $120 (Waive for the first year)
Purchases Interest Rate: 20.99%
Cash Advance Interest Rate: 23.99%


BMO® AIR MILES®† World Elite®* Mastercard®* offers consumers some of the best travel rewards in Canada. Air Miles is affiliated with numerous retail partners, from gas stations and grocery stores to travel outlets and liquor stores. Frequent travelers and savvy collectors could be hooked by this card, as they can dramatically boost their earning rate. If you also have the BMO premium chequing account, you can even benefit from an annual rebate.
This card comes with purchase protection, travel insurance benefits and airport lounge access. You can waive the annual fee of $120 for the first year while getting 1 Air Mile rewards for every $10 you spend. As a welcome offer, you can get 2,000 bonus miles. One air mile is worth $0.105. The purchase interest rate of this card is $19.99, but the income requirements are $80.000 per individual or $150.000 as a household.
What About Double Air Miles?
The basic rate is nice, but wouldn't it be fantastic if you could earn double the points or more? Fortunately, you can!
Air Miles has a wide range of partnerships meaning you can earn Air Miles on anything from groceries to gas to clothing. Some Air Miles partnerships offer double the points when you spend at certain stores, such as Adidas, LCBO, Budget, Shell, Sobeys, Apple, Staples and Expedia.ca. These are simply a few, to learn more about Air Miles partnerships and the corresponding earning rates, visit the Air Miles Directory.
Double the points can also be earned using an Air Miles supported credit card. The American Express Air Miles Platinum and BMO Air Miles World Elite Mastercard are two credit cards that offer double Air Miles points when you spend, but there are others too. Be sure that you read the fine print to ensure that you qualify for these credit cards and they suit your finances.
How to Redeem Air Miles
You can redeem your Cash Miles in store or online. If you'd like to redeem Cash Miles in store, simply present your Air Miles card or app and request that your points be used towards your purchase. To use your points online, you'll need to obtain an eVoucher through airmiles.ca. Once you have the eVoucher, you can use it to make your purchase online.
In store redemption
Staples
Metro
Sobeys
Shell
Rona
Irving
Safeway
Online redemption
PizzaPizza
Viarail
Cineplex
Starbucks
Doorsah
Hudson's Bay
Kernels
To redeem Dream Miles, you'll need to use the online Air Miles portal to book your travel. Once you login, you can browse the rewards catalogue and redeem your Miles once you find an experience you like.
How to Check Your Air Miles Balance
After shopping around and earning points, you may become curious as to how many points you've earned and how close you are to redeeming something. When you sign up for Air Miles, you will receive a login for airmiles.ca. In this portal, you can access your Cash and Dream Miles balances at the top right of the page.
Getting the Most Out of Your Air Miles
Many believe that you need to be a frequent flyer to take advantage of the Air Miles loyalty program, but that is simply not true. You can earn points on much more than travel purchases and redeem them for much more than trips abroad. Below is some general information about the Air Miles program, consider this information to make the most out of the loyalty program.
How Flexible Are Air Miles Rewards?
The Air Miles loyalty program is quite flexible. Travel bookings are almost always available, however, you may not get all of the perks you want in a hotel, flight or car rental. For example, if you want to fly business class, rent a specific car model or book a certain suite in a hotel, you may not get the customization you want.
If you're not a frequent flyer, you can always use your rewards for another purchase. Air Miles offers the following rewards in addition to travel:
Attractions
Concerts
Merchandise (ie. in store discounts)
Cash rewards
Are There Black Out Dates?
No, there aren't blackout dates with Air Miles. Your ability to book travel is based on seat availability for the Air Miles loyalty program.
Can You Use Points to Cover Taxes and Fees?
Unfortunately, Air Miles cannot be used to cover the cost of taxes and fees. Air Miles can only be used towards the actual cost of the flight.
Can Air Miles Be Transferred?
Air Miles does not allow points to be transferred to other loyalty programs. However, it is possible to transfer your Air Miles to another person's Air Miles account. To complete this kind of transfer, there may be limitations and fees.
Will I Lose Air Miles if I Cancel an Award Flight?
Air Miles does not refund redeemed rewards. If you need to cancel an award flight, you will lose your Air Miles and any other payment made. Changes to flights can be made, but usually it is restrictive. While this may seem unfair, keep in mind that most flights are not refundable, especially if you got some sort of discount on the flight.
Do Air Miles Expire?
Generally speaking, Air Miles do not expire, so long as you keep your account active. If your account has remained inactive for 24 consecutive months, or two years, your Air Miles will expire and disappear completely.
To avoid your Air Miles expiring, you can do a couple of things. You can keep your account active by continuing to earn or redeem your Air Miles. If your account is at risk of expiring, Air Miles will send you an expiry statement notifying you that your account is close to expiring. In the event that you receive this statement, contact Air Miles to notify them that you do not want your account to expire and do your best to either redeem or earn points to avoid the penalty.
Should I Sign Up for Air Miles?
Even though there are some drawbacks to the Air Miles program, that doesn't mean that it is not beneficial. In fact, Air Miles is one of the most popular travel loyalty programs in Canada. The Air Miles program is a great way for the financially savvy traveler to save some dollars. Even if you're not a frequent flyer, you can redeem your points in other ways. Join thousands of Canadians today by participating in the Air Miles program! Check out the Best Air Miles credit Cards here.
Our experts have compiled a list of the best cards in Canada in each major category, from cash back and low rate to balance transfers and more. Explore our top picks and find the best credit card for you.
Best Credit Cards in Canada 2023