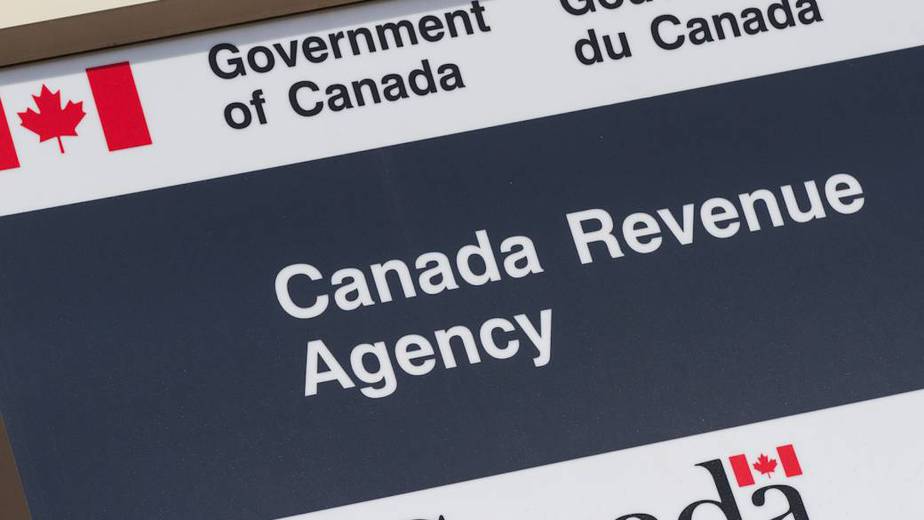 How to set up your CRA My Account
CRA My Account is a secure portal from Canada Revenue Agency that lets you view your personal income tax and benefit information and manage your tax affairs online.
Advantages of using CRA My account
Accessible – It is available 21 hours a day, 7 days a week
Simple to use – After registering, simply log in with your CRA user ID and password.
Quick– Information is up-to-the-minute and transactions are processed immediately.
Safe – The CRA user ID and password are just part of the security.
Below is the list of key activities that you can complete with your CRA My account
View status of tax return, details or change return
View mail, update notification preferences
Request a remittance voucher
View notice of assessment or reassessment
View detailed notice of assessment or reassessment
View RRSP deduction limit and TFSA contribution room
View detailed RRSP and Tax-Free Savings Account (TFSA)
View Home Buyers' Plan and Lifelong Learning Plan
Arrange my direct deposit (start, update, stop)
View carryover amounts
View tax information slips: T4, T4A, T4A(P), T4A(OAS), T4E, T4RSP, T4RIF, T5007, T3, T5, T5008, RRSP Contribution Receipt, T1204, T5013, RC210, RC62, Rent Assist and tax-free savings account (TFSA)
View Proof of income statement (option 'C' print)
View disability tax credit
View account balance and statement of account
Address and telephone numbers (view, update)
Apply for child benefits
Benefits and credits overview
View Canada Child Benefit and related provincial and territorial programs payments, account balance, and statement of account
View GST/HST credit and related provincial programs payments, account balance, and statement of account
View Universal Child Care Benefit payments, account balance, and statement of account
File a GST/HST rebate
Request a CPP/EI ruling
There is a lot more transactions that could be completed in your CRA My Account.
Steps to register for your CRA My Account



There are 2 options to register for your CRA My Account
To get started, you will need:
your social insurance number;
your date of birth;
your current postal code or ZIP code and;an amount you entered on your income tax and benefit return, so you need have your current or previous tax year return handy.

Option 1

Once you have these information available you can begin by accessing the registration page here

1) Click on the CRA register link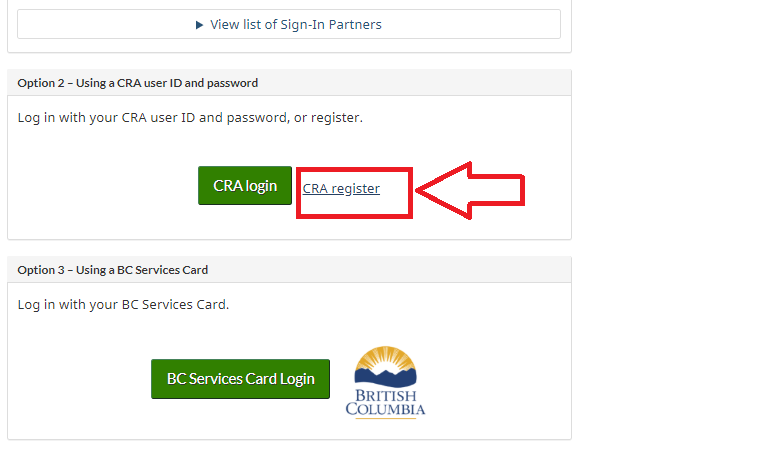 2)Enter your SIN Social insurance number and click on the next button in blue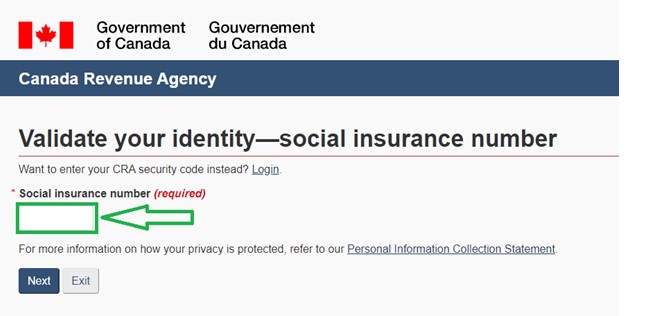 3)Validate your identity by completing all the required fields and click on the Next button in blue.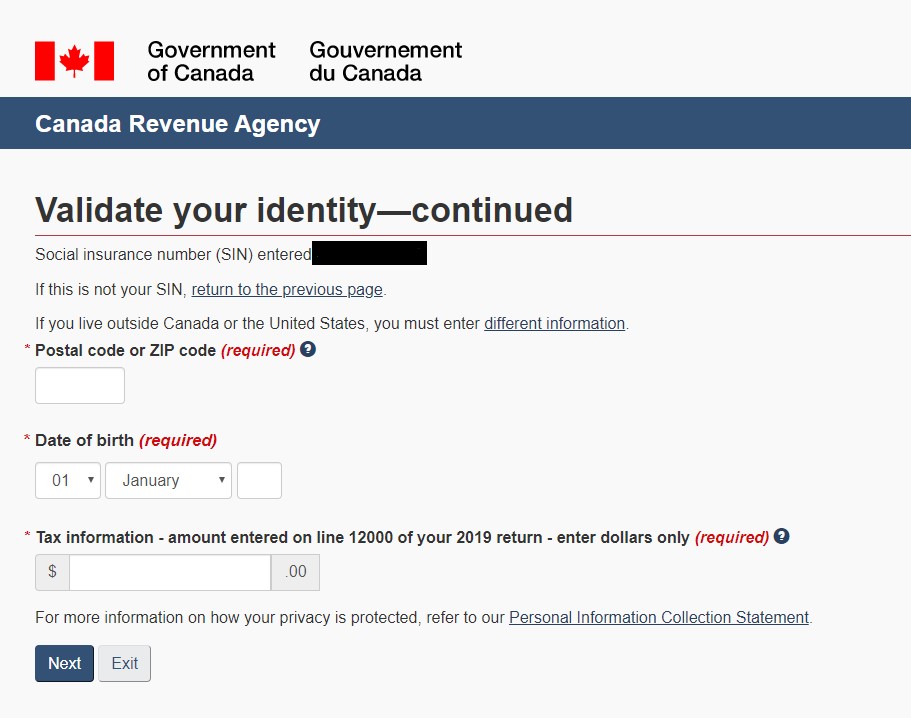 4)Once your identify has been validated, it is time to create your user ID and password.
Once you create a unique user ID and password meeting the security criteria's, then you will be required to create security questions and answers on the next screens to help secure your account further.
You'll immediately have a limited access to CRA My Account. With a limited access you will be able to view your Notice of Assessment and check the status of your refund.
CRA will automatically send you a code by mail once you have completed your enrollment, you will need to enter this code to get full access to My CRA account. This step is essential to ensure the safety and protect your account.
Once you receive the code by mail, log in to your account and enter the code. This step will finalize your enrollment and give your full access.

Option 2
The second option is to leverage sign in partners
Click on the sign in partner green button below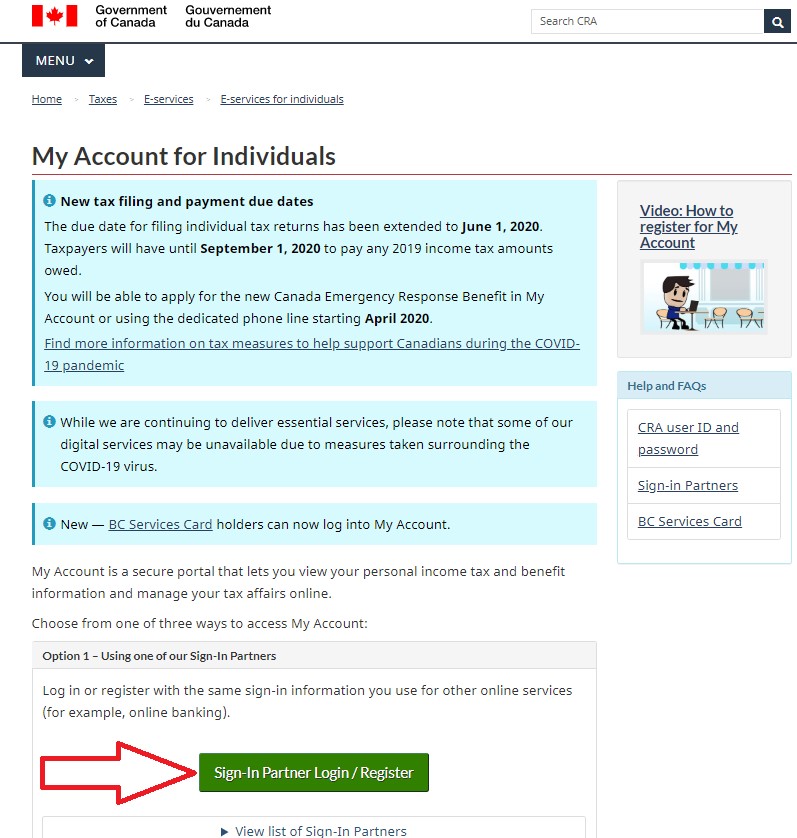 Sign-In Partners

When you click on the link for Sign-In Partner you will be redirected to the page below asking you to choose your bank or financial institutions from the list below.
If your bank or financial institution appears on the list, you can log in by using the same credentials you use for online banking. Once logged in, you will be redirected to CRA My Account.
This option is another way to authenticate you and eliminate the need to create a user ID and password by using SecureKey Concierge.
SecureKey Concierge, a technology that enable account holders to access many government services by signing in with their online bank user ID and password.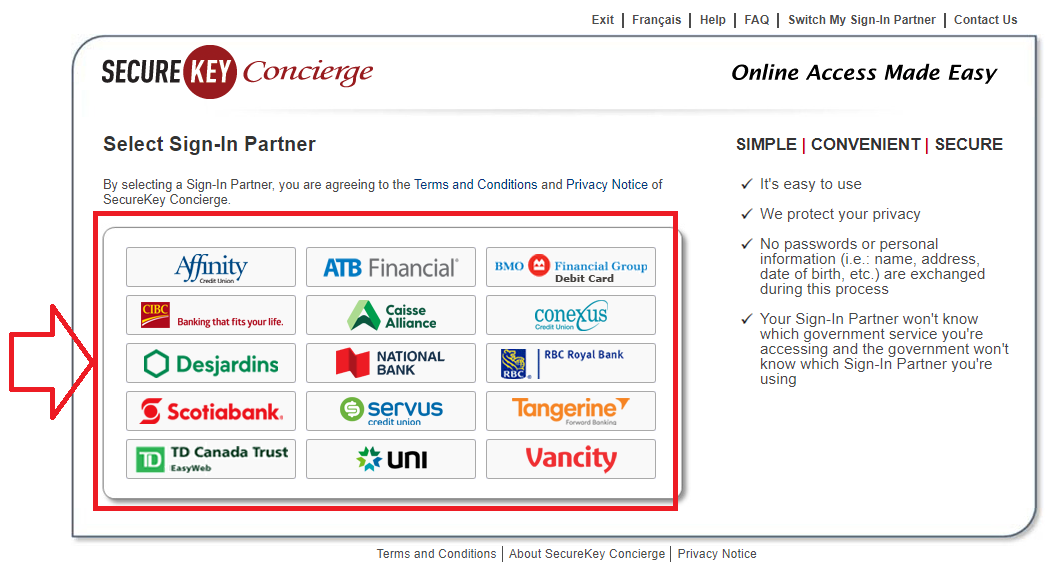 Our experts have compiled a list of the best cards in Canada in each major category, from cash back and low rate to balance transfers and more. Explore our top picks and find the best credit card for you.