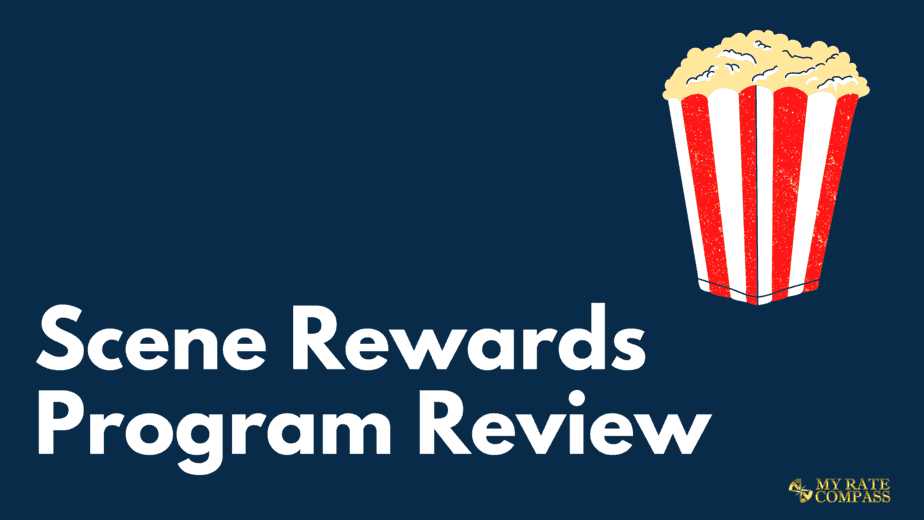 SCENE Rewards Program Review 2021: Everything you need to know about CINEPLEX Scene Points
Sticking with our transition to retail customer loyalty programs that began with our last review of Tim Hortons' Tims Rewards program, today we're going to explore the widely popular SCENE Rewards program offered by Cineplex in partnership with Scotiabank.
For frequent movie-goers, it's hard to beat the value offered by this customer loyalty program. So, if you're a film junkie who's always first in line to see the latest blockbuster releases, taking advantage of the SCENE Rewards program could go a long way toward scoring free movie tickets, concessions, and more.
So, keep reading to learn all about the SCENE Rewards program, how it works, how to earn SCENE Rewards points, the types of rewards that SCENE Rewards points can be redeemed for, and the best way to use SCENE Rewards points once you earn them.
SCENE Rewards Overview
The SCENE Rewards program is offered by the theater chain Cineplex in conjunction with Scotiabank. Founded in 1979, Cineplex has expanded its operations through a variety of strategic partnerships and acquisitions and now operates more than 160 cinemas across Canada.
The SCENE Rewards program is Cineplex's way of rewarding loyal customers for choosing Cineplex theaters for their movie-going experiences. We'll explore all the ways to earn SCENE points in detail shortly. But in a nutshell, rewards members earn points for viewing movies and buying concessions at Cineplex theaters. Additionally, customers can also earn SCENE points by dining at Cineplex's partner restaurants.
How to earn SCENE rewards
Earning SCENE Rewards points starts with downloading the Cineplex mobile app, registering for an account, and receiving the physical SCENE Rewards card. From there, customers simply scan their card and receive points for nearly any purchase made at a Cineplex theater, on Cineplex's website, or at Cineplex's partner restaurants. We'll set out each of these categories in detail below.
– Cineplex theaters
Cineplex theaters are the backbone of the SCENE Rewards program. Customers earn points here by buying standard and premium movie tickets and concessions.
From least to most points earned per transaction, customers earn 5 points per $1 spent on food and drink. Next on the list, customers earn 65 points for purchasing a Child General Admission or 3D movie ticket. After that, customers earn 125 points for purchasing an Adult General Admission or 3D ticket, 200 points for an Adult Enhanced Admission ticket, and 250 points for a VIP Cinema ticket. Additionally, customers can earn 250 bonus points when they upgrade to a Super Ticket and 50 bonus points when they see a movie with at least one member of their SCENEtourage, which is Cineplex's name for a member's pre-set group of friends or family that they often see movies with.
– Cineplex.com
Cineplex offers both movie purchases and movie rentals through its website at store.cineplex.com. Thus, SCENE Rewards members can also earn SCENE points by buying or renting movies online. So, even if you prefer your home theater to one of Cineplex 160+ cinemas, you can still take advantage of your SCENE Rewards membership and earn points toward free movies.
– Partner restaurants
Cineplex also partners with some of Canada's most popular restaurants, providing SCENE Rewards members even more flexibility when it comes to earning and redeeming rewards points. These restaurants include Bier Markt, East Side Mario's, Harvey's, Kelsey's, Milestones, Montana's, Swiss Chalet, and the pubs D'Arcy McGee's, Fionn MacCool's, Paddy Flaherty's, and Tir nan grave Og. SCENE Rewards members typically earn 1 SCENE point per $3.00 spent on food from any of these establishments.

– Scotiabank SCENE Visa Card
Last, but certainly not least, one of the best ways to earn SCENE points is by signing up for and using the Scotiabank SCENE Visa card. This card has no annual fee and carries an interest rate of 19.99%. With this credit card, cardholders earn 1 SCENE point per $1 spent on nearly any purchase and 5 SCENE points for every $1 spent at Cineplex theaters.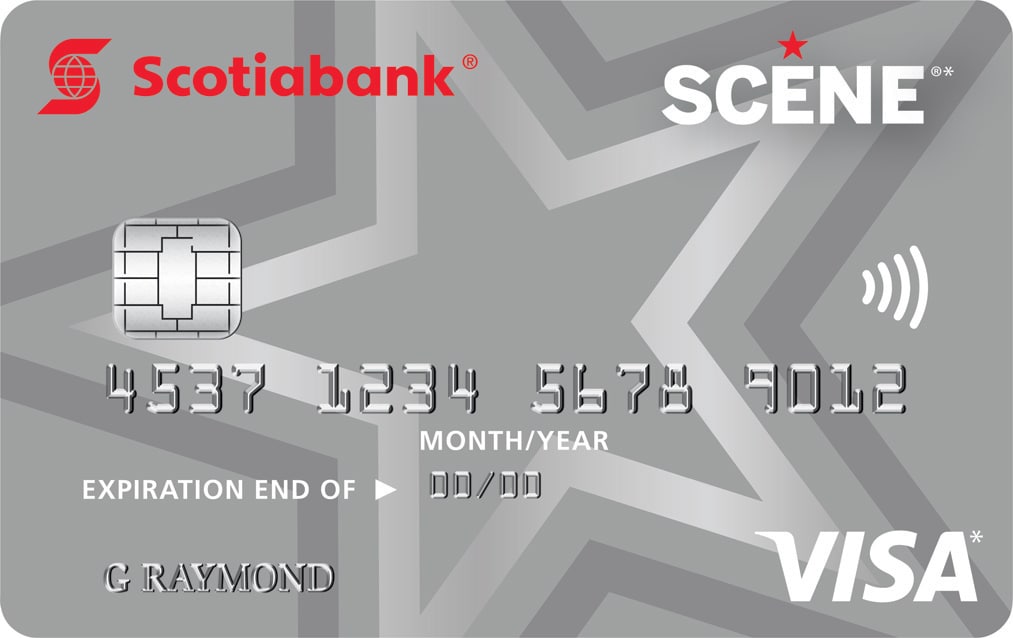 Welcome Bonus:
Earn 2,500 bonus SCENE points with your first $500 in everyday purchases in first 3 months
Annual Fee: $0
Purchases Interest Rate: 19.99%
Cash Advance Interest Rate: 22.99%
Recommended Credit Score: Average to Excellent (670-900)


Free movies – For starters, the generous sign-up bonus gives you around 2 to 5 free movies simply by checking out this credit card.
No annual fee – The zero-yearly fee means that you are free to test if this credit card is for you.
Generous rewards – Earn an impressive 5 points for every dollar spent at Cineplex Odeon Theatres (i.e. Famous Players, SilverCity, Scotiabank Theatres, Cinema City, Galaxy, etc.) and 1 point everywhere else.
Redeem as soon as you can – Redeem for music, movies and other rewards for as low as 1,000 points.
Points don't expire -You earn and get to keep your points for as long your account remains active.
How to redeem SCENE rewards
Just as SCENE Rewards offers members a variety of ways to earn SCENE points, members have a number of ways to redeem their points, as well. As a general rule, rewards members can redeem SCENE points anywhere they can earn them. In other words, SCENE points can be redeemed for rewards at Cineplex theaters, through Cineplex's online store, and at Cineplex's partner restaurants.
But members can also redeem their SCENE points for other exciting experiences, including tickets to sporting events and concerts through Live Event Tickets, tickets to the MET Opera, and even to rent a private theater for two hours of gaming on the big screen!
SCENE rewards points value
With this range of redemption options comes a range of point values. As we've seen with other rewards programs, not all points are created equal. Rather, points are worth more when redeemed for certain classes of rewards than they are when redeemed for others.
– Movie tickets and packages
Starting at the top, SCENE points are most valuable when redeemed for standard and 3D movie tickets. Adult General Admission and Adult 3D tickets costs 1,250 SCENE points, meaning members get one free movie for every 10 general admission or 3D tickets they purchase. Because ticket prices range based on the location of a particular theater, it's hard to put an exact value on a SCENE point when redeemed for a movie ticket.
However, the average price of a general admission ticket at the time of this writing is about $13, while the average price of a 3D ticket is about $16. Using these figures, we can calculate:
$13/1250 = $.0104
$16/1250 = $.0128
In other words, SCENE points are worth 1¢ to 1.3¢ per point when redeemed for general admission or 3D movie tickets.
Members can next redeem 2,000 points for admission to premium movie events, including movies with enhanced 3D effects, interactive seating, and IMAX movies. The average prices for these tickets ranges from $18 to $24. Using the same method as above, we arrive at a value ranging from .9¢ to 1.2¢ per point.
Finally, rewards members can redeem 2,500 SCENE points for Cineplex's VIP movie experience. The VIP experience includes pre and post-show access to the Cineplex lounge, in-seat dining during the show, and reserved, leather seating. Not many theaters offer the VIP experience, but at those that do, the average ticket price is around $20, meaning SCENE points are worth about .8¢ per point when redeemed for this experience.
Cineplex also offers SCENE Rewards members a variety of movie packages. One package is the Enhanced Night Out package. For 5000 points, this package includes two premium movie tickets, two regular drinks, and one regular popcorn. This would normally cost about $65, meaning a SCENE point is worth about 1.3¢ when redeemed for this package.
– Food, drink, and Cineplex store
SCENE Rewards members can also redeem their points for concessions at Cineplex theaters, food at the partner restaurants listed above, and movie rentals and purchases from the Cineplex store. When redeemed for any of those rewards, SCENE points are worth 1¢ per point.
– Concert and event tickets
SCENE Rewards points take a hit in terms of value when redeemed for concert and event tickets. Still, the flexibility that this option provides is a nice bonus to an already-valuable program. Here, members can redeem 2,250 SCENE points for $15 off the purchase of concert and sporting event tickets made through Live Event Tickets. This works out to a value of .67¢ per point.
– Transfer to Scotia Rewards
Lastly, SCENE Rewards members who also have an eligible Scotiabank rewards credit card can convert their SCENE rewards points into Scotia Rewards points (and vice versa). Surprisingly, the conversion rate is quite generous, too. Here, members can convert 1000 SCENE points into 950 Scotia Rewards points. This is not quite a one-to-one ratio, but it isn't far off either.

Getting the Most Out of Your SCENE rewards
SCENE Rewards points do a decent job of maintaining their value across all classes of rewards. Still, as we showed earlier, at 1.3¢ per point, SCENE points are most valuable when redeemed for general admission and 3D movie tickets at Cineplex theaters. They are also worth about this much when redeemed for certain premium movie packages. Thus, to maximize the value of each point, members should save their points and use them for movie tickets and packages, instead of spending them on concessions, restaurants, and event tickets.
Conclusion
The SCENE Rewards program offers movie lovers a great way to earn rewards toward free movies and concessions. And when coupled with the Scotiabank SCENE Visa, the rewards points can add up quite quickly. The program's added flexibility with respect to partner restaurants and event tickets is a nice bonus, too. But the SCENE Rewards program really shines in the theater. So, if you're a frequent movie-goer and live in a place with one or more Cineplex theaters, becoming a SCENE Rewards member could prove quite valuable.
SCENE Rewards FAQ's
How do I log in to my SCENE Rewards account?
Members can access their account through Cineplex's website or through the SCENE mobile app.
How do I contact SCENE Rewards?
Members can contact SCENE Rewards via telephone, live online chat, or through the contact portal at www.scene.ca/contact-us
Are SCENE rewards points transferrable?
Yes. Members can convert SCENE Rewards points into Scotia Rewards points and vice versa.
Do SCENE Rewards points expire?
Yes. Members must redeem their points at least once every two years.
How do I check my SCENE rewards balance?
Members can check their account balance by logging into their online account or through the SCENE mobile app.