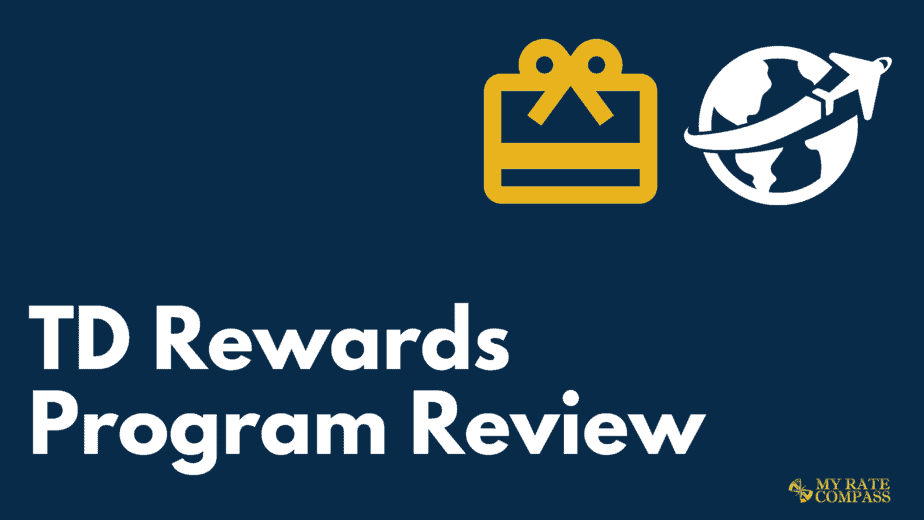 TD Rewards Points Overview: Everything you need to know
Toronto Dominion bank, TD for short, is Canada's second largest bank. Similarly, to other big Canadian banks, TD offers a comprehensive loyalty program to their customers, specifically their credit card users. Loyalty program members get the most bang for their buck when they use their points for travel purchases, but there are other redemption options as well. To learn more about earning, redeeming, and maximizing TD Rewards, continue reading below.
What is the TD Rewards Points Program?
The TD Rewards Program is a credit card loyalty program offered by Toronto Dominion bank. Loyalty members can earn and redeem points for travel and other rewards while they spend with their credit card. The TD Rewards program stands out because of its simplicity, notable offers and favourable perks.
Earning TD Rewards Points
In order to earn TD Rewards, you need to have a TD credit card. You have three choices: the TD Rewards Visa, the TD Platinum Travel Visa and the TD First Class Travel Visa Infinite Card. There is also the TD Business Travel Visa Card if you want to earn points on your business expenditures as well.
The TD Rewards Visa does not have an annual fee but earns TD Rewards points at the lowest rate. The TD Platinum Travel Visa has an annual fee of $89 but earns TD Rewards points at a faster rate. Finally, the TD First Class Visa Infinite Card has an annual fee of $120 but earns TD Rewards points at the highest rate. For business owners, the TD Business Travel Visa Card has an annual fee of $149 and will earn you points on all your business expenditures.
All of these credit cards have a sign-up bonus where you'll earn a lump sum in TD Rewards points one you obtain the card and meet the minimum spending requirements. After that, you'll continue to earn TD Rewards points as you spend with the credit card, but in smaller increments.
TD Rewards Points Value
The value of TD Rewards points varies depending on what you redeem them for. Below is the dollar value you receive when you use 10,000 points on each specific item.
Travel booking through Expedia for TD → $50
Travel booking through Book Any Way → $40
Education → $40
Shopping → $30
Gift cards → $25
Statement credit → $25
Merchandise → varies depending on the item you're purchasing
You get the best value for your points when you spend on travel which makes sense since the program is designed for travel rewards. However, you can always redeem your points for other rewards if you'd like!
Redeeming TD Rewards Points
Once you have enough points to purchase a reward, you can make a redemption. Fortunately, the redemption process is easy and straightforward. The process varies slightly depending on what you want to redeem points for.
Redeem TD Rewards Points Through Expedia for TD
TD partners with Expedia to allow their loyalty members to use their points for Expedia travel booking. The Expedia for TD website is built very similarly to the regular Expedia website which makes the redeeming process simple. If you haven't used Expedia before, don't worry, it's user friendly!
Through Expedia for TD, you can book hotels, cruises, car rentals, vacation packages, rail trips, attractions and flights. Expedia for TD offers more than your average rewards program which sets TD apart from other big Canadian bank's loyalty programs.
You don't need to have a minimum amount of points to make a redemption with Expedia for TD. Although, you'll need 200 points to redeem $1 off your travel purchase. Essentially, your points are worth 0.5 cents. When you're ready to checkout, Expedia for TD will prompt you to redeem points. There aren't any extra steps required to make a redemption.
Redeem TD Rewards Points Through Book Any Way Travel
If the travel you want to book isn't available on Expedia for TD, you can book travel using your TD credit card and redeem points that way. Unfortunately, the value you get using this method is worth 20% less when compared to using Expedia for TD. You'll need 250 points to receive $1 off your purchase which works out to be 0.4 cents per point. However, if you spend more than $1,200 in a single purchase, the ratio will reduce to 200 points for $1 or one point for 0.5 cents.
Even though you get less bang for your buck using this option, that doesn't mean you shouldn't take advantage of this perk. Perhaps you're part of another loyalty program and want to take advantage of those benefits in conjunction with TD Rewards. Alternatively, you might want to book a vacation that's not available on Expedia, such as Airbnb reservations or private experiences. The great thing about this program is it's pretty generous. Most of your travel expenses will be covered including restaurants, parking, gas and attraction costs. You can also use this option alongside Expedia for TD.
Redeem TD Rewards Points for Education
It is possible to use your TD Rewards points for education which is a unique option under the TD loyalty program. How it works is you redeem points to purchase Higher Ed Points Education Credits. Using this option, you'll receive $1 for 250 TD Rewards points. This is the same earning rate as Book Any Way Travel.
Higher Ed Points is a company that created agreements with loyalty programs and educational institutions to provide individuals with education credits. Before redeeming your points under this option, check out all of the participating education institutions. Higher Ed Points also allows you to put your points towards outstanding student loans. You can end up paying less interest if you choose to put your points towards student debt.
Redeem TD Rewards Points for Gift Cards
Usually the value to use your TD Rewards points for gift cards purchases is 400 points for $1. You get more value out of travel, but purchasing a gift card is always an option. You can obtain gift cards for Best Buy, Canadian Tire, Costco, Home Depot, Loblaws, Tim Hortons and many more retailers.
Redeem TD Rewards Points for Statement Credits
For a rate of 400 points for $1, you can obtain a credit card statement credit. This doesn't give you the greatest value, but it is an available option.
Redeem TD Rewards Points for Merchandise
The amount of points you need to make a redemption for merchandise varies based on what you want to purchase. There is an array of items to choose from and items occasionally go on sale.
Redeem TD Rewards Points at Shop The Mall
In order to use this option, you need to download the browser extension and install it into your preferred browser. The extension will tell you when you have enough points to make a redemption in the toolbar. The Shop The Mall feature allows you to shop with various retailers including Apple, Roots, Hudson's Bay, Indigo, Walmart and many more. It costs 300 points to earn $1 off your retail purchase. This means your points would be worth 0.3 cents under this option.
Getting the Most Out of Your TD Rewards
Obviously, from a financial perspective, you'll receive the most value when you redeem your points using Expedia for TD. However, that's not to say the other options don't have non-financial value. Perhaps education and retail purchases mean more to you than travel. In this case, using points to make those types of purchases will have more value to you which is perfectly okay!
That being said, if you don't value travel a lot, this might not be the most optimal loyalty program for you. There are many unique loyalty programs out there, try to find one that suits your lifestyle and spending habits best.
Ready to find the best credit card for you?

Use our credit card comparison tool

Compare Now
How TD Compares to Other Loyalty Programs
Many of Canada's large banks offer some sort of loyalty program. Although, all of these loyalty programs have corresponding pros and cons. Let's take a look at TD's benefits and drawbacks below.
Pros
Flexible Travel Booking Options. You can book through Expedia for TD or use the Book Any Way Travel feature.
User Friendly. The TD Rewards program is designed in a way that is convenient and easy to use. Other programs can be quite complex, especially when making a redemption.
Cons
Designed for Travel. Travel isn't everyone's thing. If you're not a big traveller, you won't get as much value out of this program.
Credit Card Required. If you're in the process of building or rebuilding credit, you may not qualify for one of TD's credit cards. Without a TD credit card you can't take advantage of the loyalty program.
Final Thoughts
Overall, the TD Rewards program is one of the best in Canada for travel. If you sign up today, you'll receive a hefty welcome bonus which can help you raise enough points for your next trip. Sign up today by applying for one of TD's credit cards!
FAQs
Below are frequently asked questions about the TD loyalty program and their respective answers.
How Do I Login to My TD Rewards Account?
Visit TD's website and enter your login details. If you don't remember your login information, contact TD to reset it.
How to Contact TD Rewards?
If you have any questions about the TD Rewards program, you can visit this website to contact TD.
Can TD Rewards Be Transferred?
Unfortunately, TD Rewards points cannot be transferred.
Do TD Rewards Expire?
So long as you have an active TD Rewards credit card, the points do not expire.
How to Check Your TD Rewards Balance
You can check your TD Rewards balance by logging into EasyWeb online banking via a browser or the TD app. If you'd prefer, you can also call 1-800-983-8472 to check your balance.
Do TD Rewards Cover Taxes and Fees?
Yes, you can use your TD Rewards points to cover the cost of taxes and fees.
Are There Any Blackout Dates with TD Rewards?
No, there are no blackout dates when you redeem TD Rewards points with Expedia for TD and Book Any Way travel.
How to Earn TD Rewards Faster?
The only way points can be earned is with a TD loyalty program credit card. There are no tricks to earning points at a faster rate other than making your TD credit card your primary payment method. The more you spend with your TD credit card, the more points you'll earn. But be cautious, avoid overspending!
How Many TD Rewards Points Are Needed for a Flight?
The amount of points you need to purchase a flight depends on your starting point, destination point and where you make the redemption. To give you an idea of the cost, if you're looking to purchase a flight on Expedia for TD which is worth $1,000, you would need 200,000 points ($1 = 200 points; 200 x $1,000 = 200,000).