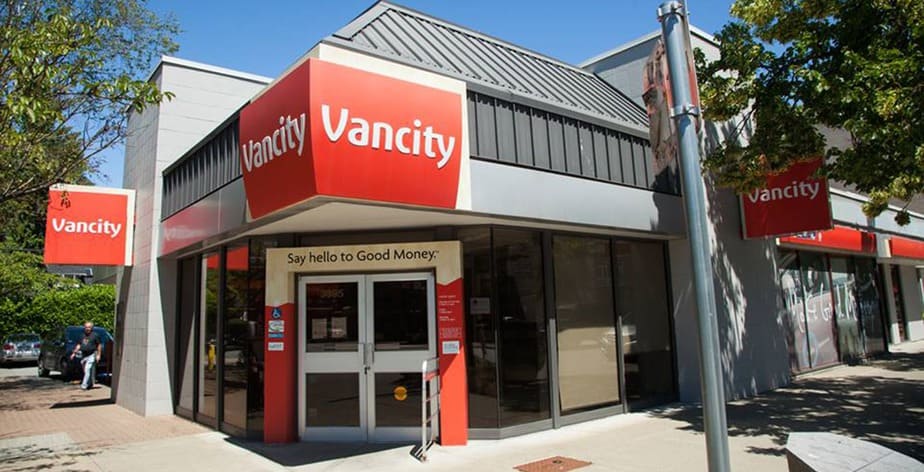 Vancity Credit Union Overview
Vancouver City Savings Credit Union, known to most as the Vancity Credit Union, is the largest-sized credit union in British Columbia and the greater Canada region. Currently, the credit union boasts over 534,866 members and manages over 26 billion assets for clients across the nation.
Formed in 1946, the bank offers a multitude of personal and commercial banking services to its members and is highly accessible within British Columbia with 59 local branches. In addition to physical banking, clients can utilize telephone banking, online banking, and mobile banking apps.
They can also take care of simple tasks with contactless banking at over 4,000 fee-free ATMs operated by the Acculink Network and Exchange Network throughout the greater Canada region. ATM's within the Lower Mainland, Fraser Valley, and Greater Victoria are directly owned by Vancity Credit Union.
Vancity Credit Union is also known as the first key major organization within the financial sector to become carbon neutral in North America.

Personal Banking with Vancity Credit Union
Vancity Credit Union offers basic banking products including savings, mortgages, chequing, insurance, investments, and credits.
Vancity Credit Cards
Below is a list of some of their top credit cards.
enviro™ Visa Infinite* card
Vancity Credit Union offers a variety of credit cards including the enviro Visa Infinite Card which carries an interest rate of 19.5%. Cardholders are also responsible for paying an annual fee of $120. Card holders earn points on spending based on where their purchase is made.
Grocery spending results in 2.5 points, public transit in five points, and ten points for purchases at designated businesses.
All other purchases earn 1.25 points per dollar.
Every 100 points that are earned equals $1 cashback.
The Enviro Visa Infinite card also offers car rental collision insurance along with loss and damage insurance.
Purchases made with the card include purchase security, price protection, and extended warranty.
In addition, mobile device insurance is offered to cardholders along with travel accident insurance up to $5,000. Cardholders also receive a complimentary priority pass when traveling.
enviro Gold™ Visa* card
Vancity also offers the enviro Gold Visa card with the same interest rate of 19.5% but the lowered annual fee of $95.
Clients earn one point for every dollar they spend but receive a bonus of 25,000 points for the first purchase they make with the card.
At their following one-year anniversary they receive a second bonus of 3,500 points.
Cardholders are offered car rental collision insurance, loss and damage insurance, travel accident insurance, and extended warranty insurance.
In addition, the card offers insurance for lost or delayed baggage, purchase security, and price protection.
enviro™ Classic Visa* card
Finally, customers can apply for the Enviro Classic Visa Card which offers the same base 19.5% interest rate but does not have an annual fee. While it offers cashback at only one point per $2 spent, it does have a low annual fee. This card only offers travel accident insurance up to $3,000, extended warranty, and purchase security
Vancity Chequing Accounts
Vancity Credit Union offers six types of chequing accounts.
E Package Chequing
The E-package chequing account charges a monthly fee of $7.75. This fee is canceled if your account balance is over $1,000 at the end of your monthly cycle. Account-holders are not charged for bill payments, cheques, or debit payments. Interac e-transfers are also fee-free. One transaction can be made in person after which a standard fee of $.75 is charged per transaction. However, transaction fees are also canceled if your balance is over $1,000.
Pay As You Go Chequing plan
The Pay As You Go Chequing plan does not have an assigned monthly fee. Instead, you pay a base fee of $.70 for every transaction you make in person. Each debit transaction incurs a $.50 fee. The same rate is assigned to pre-authorized cheques and transactions. Interest can be earned on the balance of the account up to .05%.
Vancity Credit Union also provides a student and senior discount chequing account known as the Chequing Plus Account for students under the age of 25 and seniors 55+. This account does not have any monthly fees and does not charge any fees for any online bill payments, cheques, or debits that are pre-authorized. This account also earns up to .05% in interest on its balance.
Finally, Vancity Credit Union offers its Access Chequing account to members with disabilities. These members receive up to 40 transactions per month fee-free after which they are charged $.70 per transaction. Online payments are always free and the initial set of 50 cheques are free for clients. In addition, travellers cheques are always free and there is no draft charge for cheques drawn for US dollars. In addition, ATM use is fee-free within the network. Access Chequing account holders also receive free Interac e-Transfer transactions and a discount of $5 on safety deposit boxes.
Vancity Savings Accounts
Jumpstart™ High Interest Savings
Out of all of Vancity Credit Union offers, the Jumpstart High-Interest Savings account offers the highest level of interest. This account does not charge any monthly maintenance fees but any in-person transaction does carry with it a $5 fee. This fee is also applied for transactions and debris. Online banking is free outside of Interac transfers. Clients do not need to maintain a minimum balance and savers can earn up to 1.50% interest.
Plan 24 Savings account
Those who anticipate the need for in-person transactions may appreciate the Plan 24 Savings account which does not charge fees for in-person transactions. Other transactions carry a $.70 standard fee. Online banking is also fee-free but Interac e-Transfers do carry a standard fee. The interest rate is set at .01%.
Seniors and students can take advantage of the discount Plan 24 Savings Plus account which targets students under the age of 25 and seniors 55+. This plan does not have any monthly fees and offers unlimited fee-free transactions including in-person and online banking transactions. However, there are fees for Interac e-Transfers.
Reliable Banking at Vancity Credit Union
Vancity Credit Union is able to ensure that client deposits are safe due to protection by the Credit Union Deposit Insurance Corporation of the province of British Columbia. This protection ensures that all money kept in trust accounts, savings accounts, GICs, and RSPSs are secure. This protection does not extend to mutual funds, debt instruments, and credit union equity shares since they fluctuate based on market conditions. This applies to most financial organizations.
In general, Vancity Credit Union is considered a good option for customers who want something in the middle of a large bank and online bank. The BC-based credit unit offers the best of both worlds by providing in-person service at local branches with low fees and can be a good solution for those who require in-person banking options.
Other Credit Union Reviews