PC Financial World MasterCard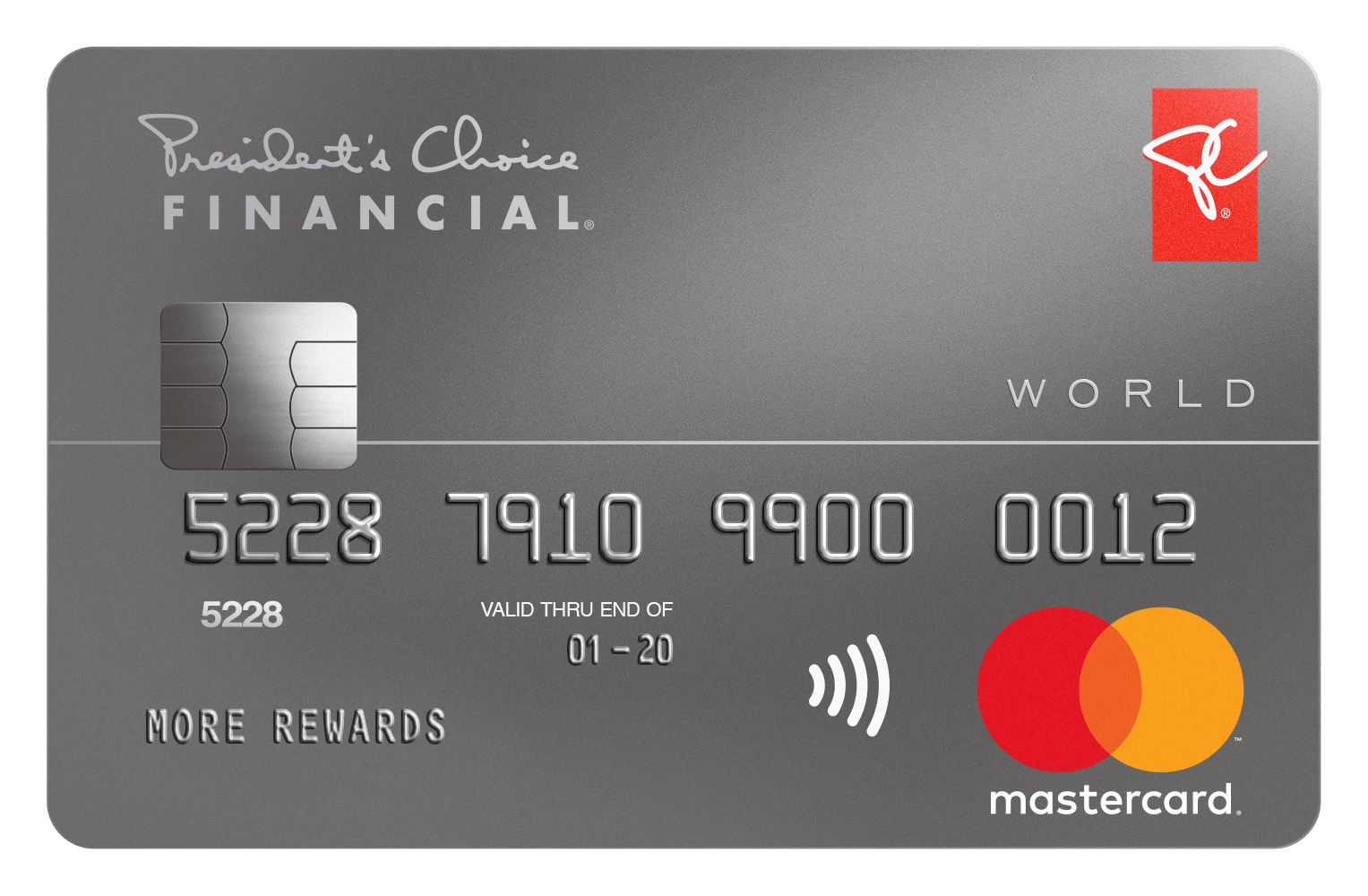 Card Details
PC Financial World Mastercard Review
With the PC Financial World Mastercard, you get more bang for your no annual fee. Use it everywhere you shop to earn PC Optimum points toward free rewards. In PC stores 20 PC Points per $1 20 PC Points per $1 at Shoppers Drug Mart Bonus of 2 cents per litre in PC points at Esso 20 PC Points per $1 at PC Travel 20 PC Points per $1 for PC Mobile Montlhy service Everywhere else 10 PC Points per $1
Interest Rate: 19.97%
Fees:
Annual: $0
Balance transfer: 0.97%
Cash advance: $3.50 inside Canada, $5 outside Canada, plus 22.97% interest on overdue amounts
Foreign transaction: 2.5% per transaction
Missed or late payments: increased interest rates to 25.97% on all purchases and 27.97% on cash advances after two missed minimum payments
Over limit: $29
Returned payment: $42
Our experts have compiled a list of the best cards in Canada in each major category, from cash back and low rate to balance transfers and more. Explore our top picks and find the best credit card for you.
Insurance
Priority airport services

No

Airport lounge access

No

Concierge service

No

Balance protection(Optional)

Yes

Purchase Security & Extended Protection Insurance

Yes

Flight delay insurance,Baggage Insurance

No

Vehicle rental insurance

No

Travel accident insurance

No

Travel medical insurance

No
Fees and Eligibility
Fees
Annual Fee:

$0

Additional Card Fee:

$0

Purchases Interest Rate:

19.97%

Cash Advance Interest Rate:

22.97%
Eligibility
Personal Income Required: $60000
Household Income Required: $100000
You're a Canadian resident
You've reached the age of majority in your province or territory
Recommended Credit Score:
Our Rating
Rating Methodology:
My Rate Compass's ratings are determined by our editorial team. Our editors rate credit cards objectively based on the benefits and features the credit card offers, interest rates, the fees, and how a credit card compares with other cards in its category.
Credit card rating methodology
Pros and Cons
24/7 concierge service to make dinner reservations, reserve event tickets, deliver gifts and more Mastercard Global Servicethat replace your card or offer a cash advance in case of emergency Up to four free additional cards on your account for family members, so you can earn PC Optimum points even faster Request free personalized convenience cheques to pay with at places that don't accept credit cards Purchase Assurance coverage at no cost to you in case of theft, loss or damage in the first 90 days for most purchases when you pay in full with your PC Financial World Mastercard Extended Warranty coverage at no cost to you that doubles the manufacturer's regular warranty for up to an additional year6 on items purchased with your PC Financial World Mastercard
Rewards:

Earn PC points on every purchase, including extra points at Shoppers Drug Mart, Esso, PC Travel and Mobil. Points can be redeemed at Loblaws, No Frills, PC Travel and Shoppers Drug Mart/Pharmaprix. Ten dollars is equal to 10,000 PC points. With this credit card level, card holders earn more points per purchase.
Editor's Review
Great credit card for those who like to earn and redeem Optimum points at all the partners locations.
The PC Financial World Mastercard is essentially the same as the PC Financial Mastercard. Unfortunately, there is one significant drawback. In order to obtain this credit card, you must have an annual income of $60,000 individually or $100,000 within your household. The limitations of this credit card make it less accessible to the general Canadian population as not everyone has that high of an income.
On the contrary, this card allows individuals to earn more PC points while spending. In the eyes of PC Financial, the more you spend, the more they earn. It might be unfair to you that you can?t earn more points, but it makes perfect sense to PC Financial! Regardless, you should stick to your budget as opposed to focusing on earning more rewards.
If you don?t meet the minimum income requirements, you can also upgrade to this card by being an existing PC Financial Mastercard user who spends more than $15,000 per year with the card. That?s $1,250 per month, if that?s out of your budget, it wise to stick to the basic PC Financial Mastercard. Although if you meet this requirement and already spend $15,000 a year with your credit card, the upgrade is worth your while!
To summarize, this card is affordable and points are easily obtained from daily purchases. However, since it is difficult for the average Canadian to obtain, it receives a lesser rating than the regular PC Financial Mastercard. However, this card is still an excellent choice for those who meet the requirements and have the budget to spend!


The PC Financial World MasterCard has 2 close cousins worth reading about:
Does PC financial MasterCard have car rental insurance?
The PC Financial Mastercard that has card rental insurance is the President's Choice Financial World Elite Mastercard. This card offers Car Rental Collision/Loss Damage Waiver Insurance. It provides Collision damage and theft protection for your car rental needs. Read our review on the PC World Elite Mastercard here.
What credit score do I need for a PC MasterCard?
The credit score needed to get approved for a PC Mastercard credit card is between fair to good which means 680 to 750.
For the President's Choice Financial World Elite Mastercard the credit score needed is good to excellent (700 to 850).
How to get PC Financial MasterCard?
You can go to the PC Financial President's Choice website and apply online.
You can apply in person at participating supermarkets everywhere in Canada.
You can apply in person at participating locations with a President's Choice Financial pavilion or in-store representative.
Does PC MasterCard have trip cancellation insurance?
PC financial offers travel emergency insurance but do not offer trip cancellation insurance. Please review the certificate of insurance for details.
What is the credit limit on a pc financial mastercard?
Credit card issuers will determine your credit limit through a convoluted process called underwriting. The higher the credit limit, the more that the Credit card issuers indicate that it trusts a borrower to repay the debt. The credit limit will depend on your credit score and existing debts.
.
Credit card details
Below is the President?s Choice Financial??Mastercard??Application Disclosure Summary. Please review and print a copy for your records.
Annual Interest Rate
Purchase interest rate:?19.97%
Cash Advance interest rate:?22.97%
Promotional balance transfers:?0.97%?for?6?months if made within?90?days of account approval if you apply by?December 31, 2019.
We may, with prior notice, increase your Purchase and Cash Advance rate to the Performance rate of?25.95%?for purchases and?27.95%?for Cash Advances following a review of:

your account use (including if you exceeded your credit limit or had any dishonoured payments), or
your credit bureau reports and credit history.

Your interest rates will increase to the Default rate of?25.97%?for purchases and?27.97%?for Cash Advances if you:

do not make the minimum payment by the due date for two consecutive months, or
are not in full compliance with the terms of your cardholder agreement.

Interest-Free Grace Period
21 days
A minimum of?21?days for new Purchases (meaning purchases which have not appeared on any previous statement) if you pay your entire current statement balance in full by the applicable due date, otherwise interest is charged from the transaction date.
The interest-free grace period does not apply to Cash Advances (which include balance transfers and convenience cheques), and interest is charged from the transaction date.
Minimum Payment
Any past due amounts, plus: your statement balance if?$10?or less, or the?greater of:
(a)?$10,
(b)?2.2%?of your total statement balance (5%?for new accounts issued to Quebec residents as of July 1, 2019), or
(c) the interest charges and fees billed on the current statement plus?$1.
Foreign Currency Conversion
2.5%
For foreign currency transactions, the foreign currency conversion markup percentage charged for purchases and cash advances and deducted from refunds and credits is?2.5%?of the amount of the charge or credit transaction.
Annual Fees
None
Other Fees
To be charged on the day the transaction occurs:
Cash Advance at a bank machine or teller in Canada:?$3.50
Cash Advance outside Canada:?$5
Overlimit charge if over the credit limit on statement date:?$29?(for Quebec residents as of July 1, 2019 statements:?$0)
Cash equivalent transaction (such as for a wire transfer or money order):?1%?(minimum?$5, maximum?$10)
Dishonoured payment or convenience cheque:?$42
Copy of a sales draft:?$10?(for Quebec residents as of July 1, 2019:?$0)
Copy of a previous account statement:?$10
Credit balance refund made by cheque:?$20
Balance Transfer:?1%?of the transferred amount will be charged for balance transfers requested?6?months or more after account approval.
Inactive account: if on your statement date there is a credit balance on your account and there has been no activity on your account (meaning no debits, credits, interest or fees) for the preceding?12?consecutive months, your account is subject to a fee equal to the?lesser of?$10?or the credit balance amount.
Effective as of April 30, 2019 (unless otherwise indicated). Subject to change.