RBC Avion Visa Platinum

Welcome Bonus
Get 35,000 welcome points, a value of up to $750.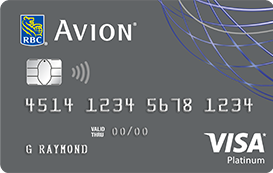 Card Details
RBC Avion Visa Platinum review
Get 35,000 welcome points, a value of up to $750. Perfect for your future travel plans, with points that do not expire.
Earn 1 RBC Rewards point for every dollar you spend
No blackout periods or seat restrictions – ever!
Earning is easy
Earn 1 RBC Rewards point for every $1 you spend on qualifying purchases2, plus earn bonus points through purchases at selected retailers using your RBC Rewards credit card.
Fly on your terms
Choose any airline, any flight, at any time. No blackouts or seat restrictions, even during peak seasons.
Choose your destination
Take a look at their Air Travel Redemption Schedule to see how many points you need. Flights start as low as 15,000 RBC Rewards points!
Save and Earn Faster with RBC Offers
Load personalized offers for great brands before you shop to get cash savings or to earn bonus points faster.



Our experts have compiled a list of the best cards in Canada in each major category, from cash back and low rate to balance transfers and more. Explore our top picks and find the best credit card for you.
Insurance
Priority airport services

No

Airport lounge access

No

Concierge service

No

Balance protection(Optional)

Yes

Purchase Security & Extended Protection Insurance

Yes

Flight delay insurance,Baggage Insurance

Yes

Vehicle rental insurance

Yes

Travel accident insurance

Yes

Travel medical insurance

Yes
Fees and Eligibility
Fees
Annual Fee:

$120

Additional Card Fee:

$50

Purchases Interest Rate:

19.99%

Cash Advance Interest Rate:

22.99%
Eligibility
Personal Income Required: $60000
Household Income Required: $1
You're a Canadian resident
You've reached the age of majority in your province or territory
Recommended Credit Score:
Our Rating
Rating Methodology:
My Rate Compass's ratings are determined by our editorial team. Our editors rate credit cards objectively based on the benefits and features the credit card offers, interest rates, the fees, and how a credit card compares with other cards in its category.
Credit card rating methodology
Pros and Cons
Redeem points for other great stuff
Including the latest Apple products, over 50,000 tech products at Best Buy, and an amazing selection of merchandise4, gift cards, RBC Rewards Financial vouchers and more.
Convert your points to other programs
Eligible RBC Rewards members can convert points to other loyalty programs including WestJet dollars and Hudson's Bay Rewards points.
Payback with points
Use your RBC Rewards points toward your credit card balance.
Editor's Review
Excellent Travel Credit Card With Great Insurance Coverage And no Blackout Periods Or Seat Restrictions.

A huge benefit to the RBC Avion Visa Platinum card is when you apply for the card, RBC will provide you with 35,000 points as a welcoming bonus which is worth approximately $750. That's a great way to kick start your next vacation!
Cardholders continue to earn points when they make eligible travel purchases, which earn 1.25 points per dollar spent. Points can also be earned on all other purchases, but the rate is only one point per dollar spent. Other benefits of this card include travel insurance that covers you for things like trip cancellation, trip disruption, hotel or motel burglary and medical expenses; plus savings on gas at Petro Canada, shopping insurance, additional Petro Canada point earnings when cards are linked, ability to lock the credit card at any time and access to exclusive events.
Another notable benefit of this credit card is the flexible redemption policy with RBC travel points. The travel points can be redeemed through RBC Rewards bookings or can be transferred to other loyalty programs such as British Airways, WestJet, American Airlines or Cathay Pacfic Asia Miles. Before transferring your points, it's wise to do some research to determine which provider you'll get the most value out of. If travel isn't your thing, points can also be used to purchase merchandise or pay down your RBC balance - but travel is the main attraction here!
While all of these benefits sound phenomenal, don't forget about the $120 annual fee. Another disadvantage is the points to dollar ratio is average at best and there aren't any opportunities to further your points earnings. Finally, RBC is one of Canada's highly perceived banks, but they also have strict lending requirements making it challenging for some to access this credit card and its benefits.
Overall, the RBC Avion Visa Platinum has many benefits, especially for those who have caught the travel bug! Although, if you aren't willing to spend a lot to earn the points you need for a vacation, this card might not be right for you.
Keep in mind that this card is a close cousin to one of RBC's other credit card products, RBC Avion Visa Infinite. The only difference is there are no income requirements on the RBC Avion Visa Platinum card whereas the RBC Avion Visa Infinite does have minimum income requirements. If that piques your interest, check it out before registering for this card.