CIBC bizline Visa Card for Small Business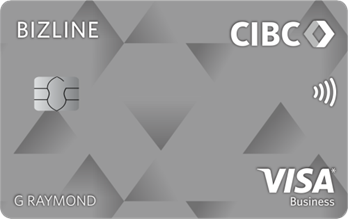 Card Details
CIBC bizline® Visa* Card for Business review


CIBC bizline Visa Card for Small Business
Easy access to a high credit limit up to $50,000
Get the flexibility to make your business next-level competitive
Competitive purchase and cash rates
Interest as low as 1.5% over CIBC Prime
Add up to 9 cardholders
Consolidate employee spending under one account
Insurance
Priority airport services

No

Airport lounge access

No

Concierge service

No

Balance protection(Optional)

No

Purchase Security & Extended Protection Insurance

NO

Flight delay insurance,Baggage Insurance

No

Vehicule rental insurance

No

Travel accident insurance

Yes

Travel medical insurance

No
Fees and Eligibility
Fees
Annual Fee:

$0

Additional Card Fee:

$0

Purchases Interest Rate:

5.99%

Cash Advance Interest Rate:

5.99%
Eligibility
Personal Income Required: $35000
You're a Canadian resident
You've reached the age of majority in your province or territory
Recommended Credit Score:
Our Rating
Rating Methodology:
My Rate Compass's ratings are determined by our editorial team. Our editors rate credit cards objectively based on the benefits and features the credit card offers, interest rates, the fees, and how a credit card compares with other cards in its category.
Credit card rating methodology
Pros and Cons
Low Interest rate

as low as CIBC Prime +1.5% for cash and purchases
Editor's Review
This card is specially tailored for business owners who want to grow their businesses. It has an out-of-this-world interest rate of just 1.5% over CIBC prime for both cash and purchases. It also allows business owners to access up to $50k in credit with a 0$ annual fee.
If you want to stay ahead of the curve and invest in the growth of your business, then this card is just perfect for you. You gain instant access to cash and you can add up to 9 employees under one umbrella account. This allows you to consolidate the employee spending and use the CreditSmart program to manage and organize the credit card activity.
The only requirement to access this benefit-loaded card is to have a minimum annual income of $35k. Of course, you also have to be a permanent resident of Canada and be of a minimum of 18 years of age.
In addition to the exceptionally low-interest fee and great management features, this card offers you travel accident insurance.
Here are additional advantages that a small business credit card can offer your business to help it grow and be profitable.
Manage business expenses
Earn rewards for your business spend
Build credit for your business
Simplicity of recordkeeping and reporting, especially around tax time
Maintain control over spending
1 Annual interest rate and credit limit is based on your personal credit bureau and other information at the time your application is processed. The minimum credit limit is $5,000 and the maximum credit limit is $50,000. Annual interest rate will range between CIBC Prime Rate + 1.5% and CIBC Prime Rate + 13.0%. The card's annual interest rate is variable, meaning that it may change when CIBC's Prime Rate changes. You can find out what CIBC Prime Rate is by calling CIBC toll-free at 1-866-525-8622.
2 bizline cheques bear interest from the date they are posted to your credit card account. Cash advances are charged to your CIBC bizline Visa Card and bear interest from the date they are taken from your account.
3 Your annual income may include business and personal sources (e.g., share of profits, drawings, dividends and management salaries from the business, income from personal investments and part-time employment income). This income may be verified using your personal Notice of Assessment.
4 Insurance Features and options: Common carrier fares must be charged to the card prior to your departure to activate coverage. $100,000 Common Carrier Accident Insurance is available only to the Primary Cardholder and his or her spouse and dependent children; coverage is up to $100,000. All insurances are underwritten by Royal & Sun Alliance Insurance Company of Canada and are subject to limitations and exclusions outlined in the insurance certificates distributed with the card package.
5 We may withdraw approval if we become aware of any unfavourable information regarding your financial position or account status, or if you are unable to provide any additional information reasonably requested by CIBC. The application response time may take longer than 60 seconds in the event of technology issues. If you supply your email address, an application status email will be sent as soon as the technology issues are resolved. Otherwise, you will receive a response to your credit card application within 7 to 10 business days.
All information is valid at the time of publication and is subject to change without notice.