SCENE®* Visa* Card

Welcome Bonus
Earn 2,500 bonus points with your first $500 in everyday purchases in first 3 months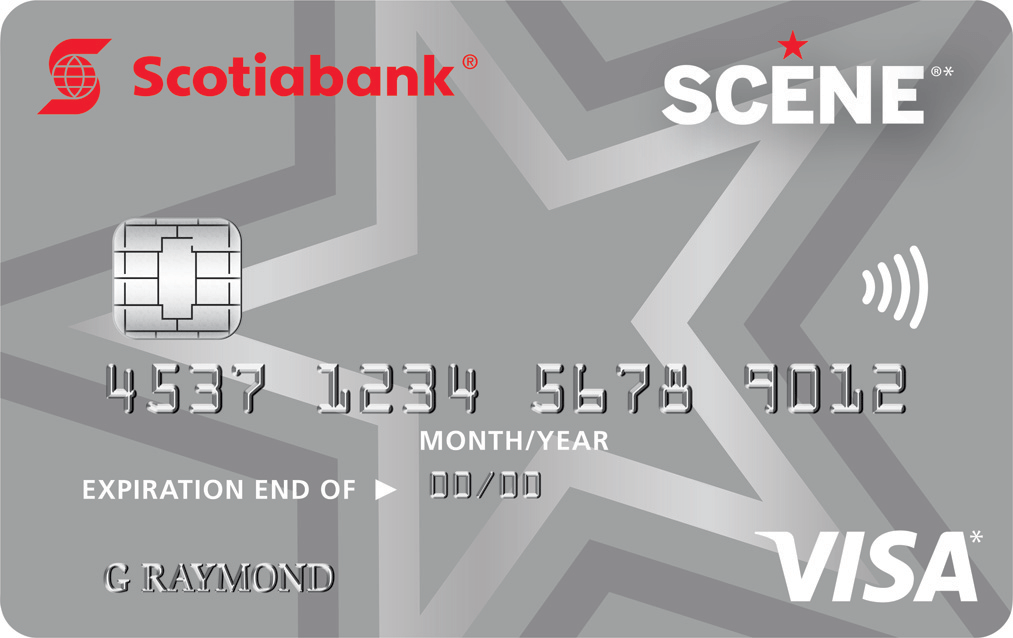 Card Details
SCENE®* Visa* Card review

Earn 2,500 bonus points with your first $500 in everyday purchases in first 3 months

Earn 1 SCENE point for every $1 you spend on your everyday credit card purchases

Get SCENE points faster
Earn 1 SCENE point for every $1 you spend on your everyday credit card purchases
Earn 5 SCENE points for every $1 you spend on credit card purchases at Cineplex theatres or at cineplex.com
Get FREE movies
Redeem for a FREE movie with just 1,000 points.
Save at participating restaurants
Get $10 off at participating restaurants when you redeem just 1,000 points
Insurance
Priority airport services

No

Airport lounge access

No

Concierge service

No

Balance protection(Optional)

No

Purchase Security & Extended Protection Insurance

NO

Flight delay insurance,Baggage Insurance

No

Vehicule rental insurance

No

Travel accident insurance

No

Travel medical insurance

No
Fees and Eligibility
Fees
Annual Fee:

$0

Additional Card Fee:

$0

Purchases Interest Rate:

19.99%

Cash Advance Interest Rate:

22.99%
Eligibility
You're a Canadian resident
You've reached the age of majority in your province or territory
Recommended Credit Score:
Our Rating
Rating Methodology:
My Rate Compass's ratings are determined by our editorial team. Our editors rate credit cards objectively based on the benefits and features the credit card offers, interest rates, the fees, and how a credit card compares with other cards in its category.
Credit card rating methodology
Pros and Cons
Save on car rentals
As a SCENE Visa Cardholder, you can save up to 25% off base rates at participating?AVIS locations and at participating Budget locations in?Canada and the U.S. when you pay with your SCENE Visa card


Save time at the checkout
Tap your SCENE??Visa*?card or your smartphone for quick easy payments


Feel reassured (Optional protection)
Your finances can have added protection from some of life's unpredictable events, like disability, job loss, strike or lockout, critical illness or loss of life.
Editor's Review
The SCENE Visa card from Scotiabank is a unique no-annual card that offers you 2,500 bonus SCENE points at sign-up, plus one extra point for any other purchases after the first 3 months.
With this card, not only that you earn a lot of points when you go to the cinema, but you also earn points when you go to the store & mall, buy gas or pay your utility bills. You can also use this card when eating at the CARA restaurants and at many other Scotiabank partners.
Basically, this card is perfect for people of all ages who love movies and prefer having a free card with them at all times. Of course, you can use this card for the movies and take another rewards card with you when going to the store, one that gives you 2% or 3% cashback.


This credit card is a great option for those who collect points from the Scene loyalty program.The card can enable you to earn Scene points faster and get free movies.This card was rated 2018 MoneySense#1 Student Card
? Eligibility and Exclusions: Individuals who are currently or were previously primary or secondary cardholders of a Scotiabank retail credit card in the past 2 years, including those that switch from an existing Scotiabank retail credit card, as well as employees of Scotiabank, are not eligible for the 2,500 bonus SCENE points offer (the ?Offer?). Subject to the above exclusions, Scotiabank small business credit cardholders are eligible for the Offer.

Offer Description and Conditions: To be eligible for the 2,500 bonus SCENE points offer (the ?Offer?), you must have at least $500 in eligible purchases posted to your SCENE Visa account (?Account?) in the first 3 months from the Account open date. Eligible purchases include purchases (less any refunds, returns or other similar credits) but do not include payments, cash advances (including balance transfers, Scotia? Credit Card Cheques or cash-like transactions), interest, fees or other charges. The bonus points will be awarded within 2-3 business days of the completion of the $500 net purchases provided the Account is open and in good standing at time of payout. The Account is considered in good standing if it is not delinquent (past due) or over limit and the Cardholder(s) is not in breach of the Revolving Credit Agreement that applies to the Account. Only one welcome bonus is awarded per SCENE Visa Account. In cases where both the primary and supplementary cardholders are SCENE members, the bonus points will be credited to the SCENE membership account that has been connected to the SCENE Visa card. Offer applies to a new Account only opened by March 1, 2020.
Offer not applicable to SCENE Student Visa card.

Rates and Fees: There is currently no annual fee for the primary card and no fee for each additional supplementary card. The current preferred annual interest rates for the Account are: 19.99% on purchases and 22.99% on cash advances (including balance transfers, Scotia? Credit Card Cheques and cash-like transactions). All rates, fees, features and benefits are subject to change. Offers may be changed, cancelled or extended and cannot be combined with any other offers.