Best Air Miles Credit Cards in Canada for 2022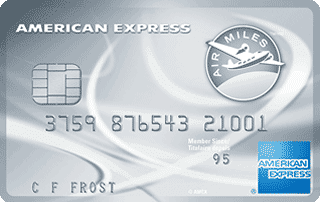 Details
Purchases Interest Rate:
20.99%
Cash Advance Interest Rate:
21.99%
Min Income Requirement:
Not Available
Why Apply:
Generous welcome bonus
Wide variety of rewards
Sufficient travel and shopping insurance
Recommended Credit Score:
Apply Now
lock
On American Express's Secure Website
If you pay all your credit card balance monthly and is good at managing money, it makes perfect sense to get a credit card that rewards you – especially if it means free flights. Delivering the right mix of rewards and a low annual fee, the American Express AIR MILES Platinum Credit Card is a sensible credit card for people with mid to high spending. It gives you a lucrative welcome bonus, a generous rewards and referral program, and a good earn rate for an affordable annual fee.
Good value
– For a $120 annual fee, this credit card provides more than enough travel benefits, rewards and insurance coverage.
Generous welcome bonus – This credit card comes with a 2,000 MILES sign-up bonus that is worth $200 as cash AIR MILES. This is already enough for a short-haul flight.
Wide variety of rewards – With more than 1000 rewards to choose from, you can redeem everything from travel to movie tickets, electronics, and more.
Sufficient travel and shopping insurance – You get car rental theft and damage insurance, $100,000 travel accident insurance, purchase protection plan, and buyer's assurance protection plan.
Owners of the American Express Air Miles Platinum credit card earn one Air Mile for every $5 spent on eligible expenses. These expenses include food, drinks, groceries, gas, ride share and transit purchases in Canada, to name a few. Card holders also earn 1 Mile for every $10 spent on non-eligible purchases.
Card holders also have the opportunity to earn 2,000 bonus Air Miles.



New American Express® AIR MILES®* Platinum Credit Card Cardmembers, earn a Welcome Bonus of 2,000 AIR MILES®* Bonus Miles when you charge a total of $1,500 in purchases to your Card within your first three months of Cardmembership. That's enough to redeem for $200 towards your purchases with AIR MILES®* Cash

When it comes to points redemption, card holders can use them to purchase flights, merchandise, electronics, hotels, car rentals, among many other things. In addition, card holders will get 25% bonus Miles, based on how many you're spending, on their first single flight or vacation package purchased through Air Miles once per calendar year. This once a year offer caps at 750 Air Miles, but still will contribute to one of your annual trips!
Card holders also benefit from Front of the Line, Insider Access, travel insurance and shopping insurance from American Express. There are also no income requirements, aside from paying the annual fee of $120.
In conclusion, the American Express Air Miles Platinum credit card is an excellent choice, particularly if you're already invested in Air Miles' loyalty program. You'll also reap the benefits of low commitment balance transfers and other American Express benefits. Keep in mind that if you're not keen on the annual fee of this credit card, American Express offers a basic Air Miles credit card with no annual fees.
Other Credit Card Issuers