HSBC Credit Cards Overview
With 139 branches across the country, HSBC Bank Canada is the seventh largest bank in Canada, with offices in every province except Prince Edward Island. HSBC Bank is one of the most trusted banks not only in Canada, but globally with 40 million customers.
HSBC offers a large variety of credit cards. However, some of them require applicants to be HSBC bank account holders. There are three HSBC credit cards open to any Canadian citizen (outside of citizens of Quebec) that offer a variety of cashback rewards. Most cards require annual fees while others offer reduced annual fees in exchange for lower sign-up bonuses.


HSBC Credit Card Benefits and Perks
While HSBC credit card benefits and perks vary by card, most offer either welcome rates and/or special reward programs that entice shoppers to spend using their HSBC credit cards. Like most credit card programs, the more you spend the more you earn. The best card for you is dependent on your lifestyle. Frequent travelers will enjoy the travel reward cards that earn miles while others may prefer the simple point structure of the Rewards program that earns them measurable cashback for each completed purchase.
In addition, HSBC cards offer a standard set of Mastercard benefits that all cardholders can take advantage of. For example, all HSBC credit cards offer some form of extra insurance. While the exact type varies by card, cardholders are eligible for purchase assurance, extended warranty protection, car rental insurance, and even cell phone insurance in some cases.
Some HSBC credit cards also offer price protection and identity theft resolution services. Price protection provides the buyer with reimbursement for any product they purchase if they find a lower price advertised within 120 days of purchase. Identity theft resolution is provided to help cardholders who become victims of identity theft.
In addition, online shoppers enjoy access to ShopRunner for free with HSBC credit cards. A ShopRunner membership entitles cardholders to unlimited, free two-day shipping along with free online returns to over 140 online stores.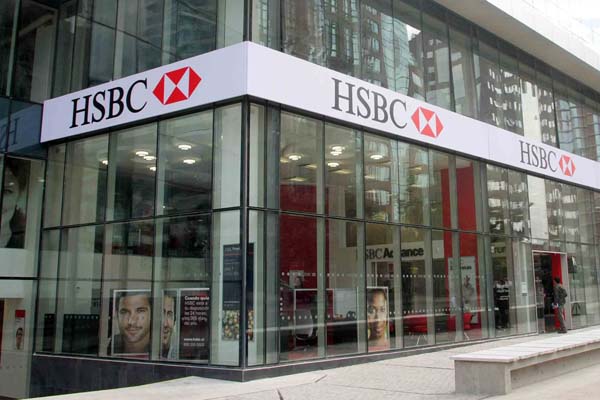 HSBC Credit Card Cons
Although there are a lot of benefits attached to HSBC credit cards, there are some downsides as well. The HSBC credit cards that offer the highest amount of rewards also carry annual fees and higher credit score eligibility markers. In addition, some HSBC cards are exclusively available to only HSBC bank account holders.



What Are the Types of HSBC Credit Cards?
HSBC offers a variety of credit cards based on whether you are looking for travel rewards or cashback rewards. In addition, HSBC also offers one credit card that offers an enticing low-interest-rate although it does not offer as many rewards.


Low Interest
If interest rates are your main concern, then the HSBC +Rewards Mastercard is the best choice with an 11.9% APR on purchases and cash advances and/or balance transfers. In addition, the card offers 20,000 free rewards points if cardholders spend $2,000 within 180 days of opening their account.


No Annual Fee Cards
Some HSBC card offers allow applicants to apply for a rebate at the close of their first year while others start with a low annual fee. The HSBC Premier Mastercard, HSBC Advance Mastercard, and HSBC Mastercard do not have annual fees attached to them while The HSBC +Rewards card has a $25 annual fee. If an annual fee is a gamechanger, it is important to review the terms and conditions of any HSBC credit cards you are interested in before applying.


Cashback Credit Cards
Applicants who are interested in cashback rewards will be pleased with the many HSBC cards that offer a structured reward program. Most HSBC cashback credit cards offer at least 1% back on eligible purchases, while the HSBC Premier World Cash Back MasterCard offers a 2% rebate on all eligible purchases made in foreign currency and an additional 1.5% cashback for all eligible gas, grocery, and drugstore purchases made in Canada. However, in order to be considered for the Premier World Cash Back card applicants must have an annual income of at least $60,000. All other cards offer from 1-1.25% on all purchases and offer extra incentives such as the HSBC mortgage paydown program.


Rewards Credit Cards
HSBC also offers a variety of rewards credit cards where cardholders can choose to use their rewards in a variety of fashions. The HSBC reward program allows cardholders to earn one point for every $1 spent on eligible purchases. Rewards can then be used to book flights, hotels, and other travel goods or used to pay down an HSBC mortgage.


What is the Eligibility to Get an HSBC Credit Card?
In order to get an HSBC credit card applicants need to be an HSBC bank account holder or apply for one of the three cards that do not require a bank account. These are the HSBC+ Rewards Mastercard, HSBC World Elite Mastercard, and the HSBC Mastercard. Income requirements vary by card and credit score eligibility varies as well although all cards require at least a credit score of 660.


How Do I Apply for an HSBC Credit Card?
Follow the secured links on this page to apply for an HSBC credit card.