Compare American Express Credit Cards in Canada
Welcome Bonus Value
Estimated dollar value of the credit card welcome bonus
Annual Fee
The annual fee on a credit card is a fee you pay each year to use the card
Purchase APR
The interest Percentage Rate applied to all purchases you make with your credit card.
Cash Advance APR
The Annual Percentage Rate applied if you used your card to get funds via ATM.
Recommended
Credit Score
Recommended credit score range required to be eligible for approval for the credit card
American Express Credit Cards Overview
American Express credit cards are rapidly becoming more popular in Canada as more consumers are choosing American Express for their high reward rates. In turn, more and more retailers are accepting American Express credit cards making it easier for savvy Canadian consumers to choose Amex for their credit needs.



American Express Credit Card Benefits
The type of American Express credit card benefits you receive depends heavily on the type of card you choose, but each card has its own enticing offers. If it's rewards you're after, it is hard to beat the rewards structure of American Express credit cards. The Amex Cobalt card for example offers consumers as much as five points on every dollar spent and each point is valued at 1.75 cents. That means you have the opportunity to earn up to 8.75% on certain purchases.
American Express also offers some tempting welcome bonuses to consumers who are thinking about changing their credit card carriers. Most bonuses are based on a minimum of $1000 of spending a month and add up to as much as $625 in cash back by the end of the year.
In addition, American Express credit cards also offer a variety of perks that range from air miles to cashback to travel insurance to roadside assistance. Cashback perks are usually the most touted among cardholders, which is one reason why the Cobalt Amex is considered one of the best credit card in Canada. Savvy spenders can turn their monthly expenditures into new income.
Finally, the income eligibility requirements are one very important benefit of owning an American Express credit card. Unlike other premium credit cards that require an income of at least $200,000, Amex does not require cardholders to meet income benchmarks. The only American Express cards with an income requirement are those issued by Scotiabank, and even then the income requirement is set at a very low $12,000.



American Express Credit Card Cons
Like most things in life, while American Express credit cards offer a lot of perks, there are a few downsides to consider before taking out a card. The first is the fact that while more and more retailers are beginning to accept Amex cards, there are still a few that do not. For this reason, Amex cardholders will probably need a backup credit card. The other downside is that most American Express credit cards charge an annual fee. In fact, only three Amex cards and one issued via Scotiabank offer annual fee-free cards.


What Are the Types of American Express Credit Cards?
American Express offers a variety of different credit cards to Canadian consumers. These cards each carry their own perks such as membership rewards, cashback rewards, travel rewards, no annual fees, or low-interest rates.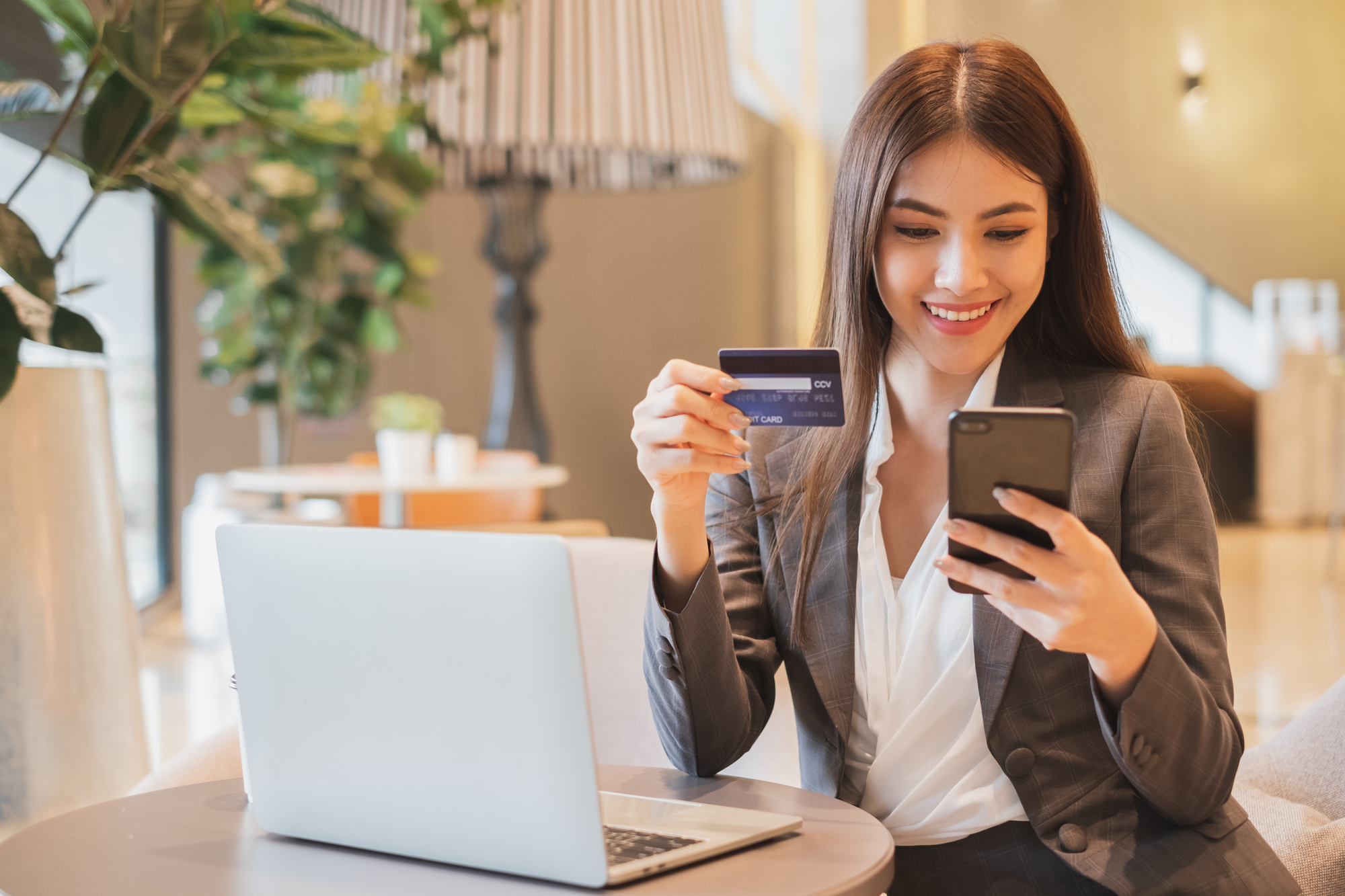 Membership Rewards
Most American Express credit cards offer membership rewards which are earned from eligible purchases in point increments. For example, cards like the American Express Cobalt Card offer five reward points for every $1 spent at the bar, grocery store, restaurant, or on food delivery. Many cards have welcome offers that include bonus points if you spend enough within the first year like the Marriott Bonvoy American Express Card while others offer special reward earning periods.
Once earned, American Express credit cardholders have the option to spend their points in a variety of ways including statement credits, travel, gift cards, shopping, and charity donations. Some cards like the co-branded Marriott Bonvoy card offer special perks if the points are spent with transfer partners.


No Annual Fees
Most American Express cards carry an annual fee that can be offset by reward points, but several American Express cards do offer zero annual fees including the SimplyCash Card from American Express


Low-Interest Rate Credit Cards
Most American Express credit cards have a starting APR of 19.99% or 20.99%, but the American Express Essential Credit Card offers an astounding APR of 12.99%.


Co-Branded Credit Cards
American Express maintains partnerships with several travel-based companies including Aeroplan which offers its cardholders perks such as access to the Maple Leaf lounge, free checked bags, and priority airport services. American Express also offers AIR MILES branded credit cards which offer a companion flight benefit and PriorityPass good at multiple global airport lounges. In addition, American Express offers branded Marriott Bonvoy credit cards that offer welcome bonuses good for free nights at the brand's hotels.


American Express Credit Card Partnerships
American Express partners with several Canadian companies to provide cards to Canadian citizens. The company works with several provides including:


Scotiabank
Scotiabank issues three Amex cards that all feature the benefits as any other American Express card, the difference is they are issued via Scotiabank instead of American Express.

These cards are the Scotiabank American Express Card, Scotiabank American Express Platinum Card, and the Scotiabank Gold American Express Card.



Scotiabank American Express Card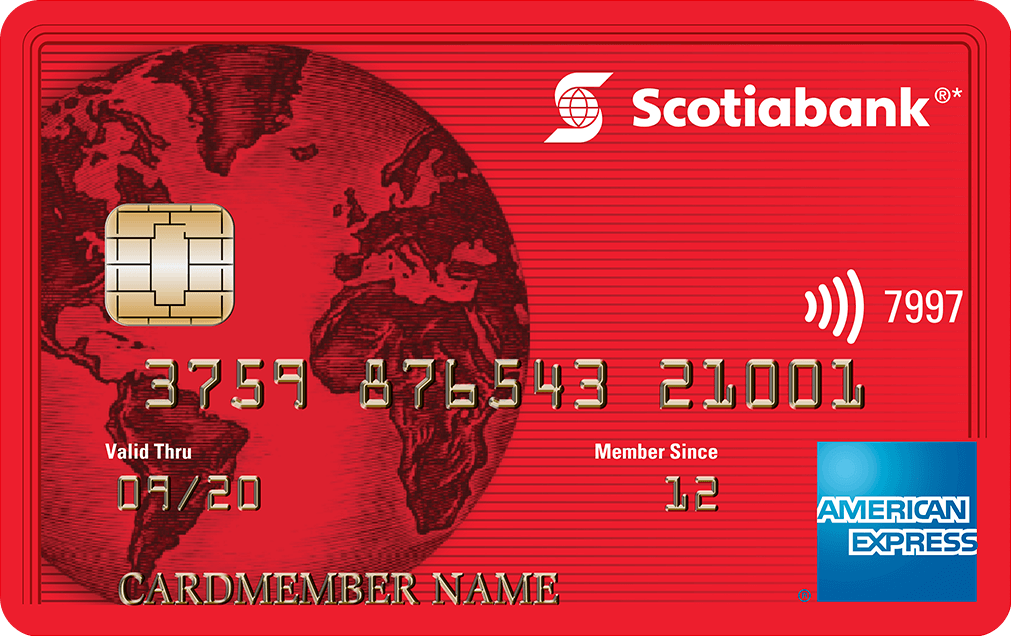 Scotiabank American Express Platinum Card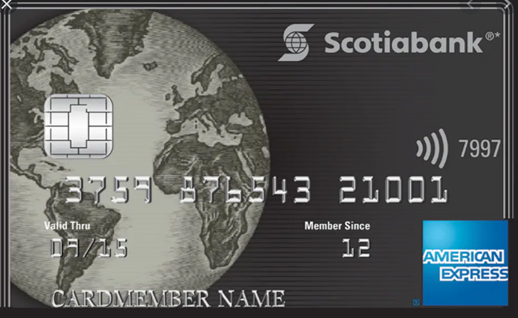 Scotiabank Gold American Express Card.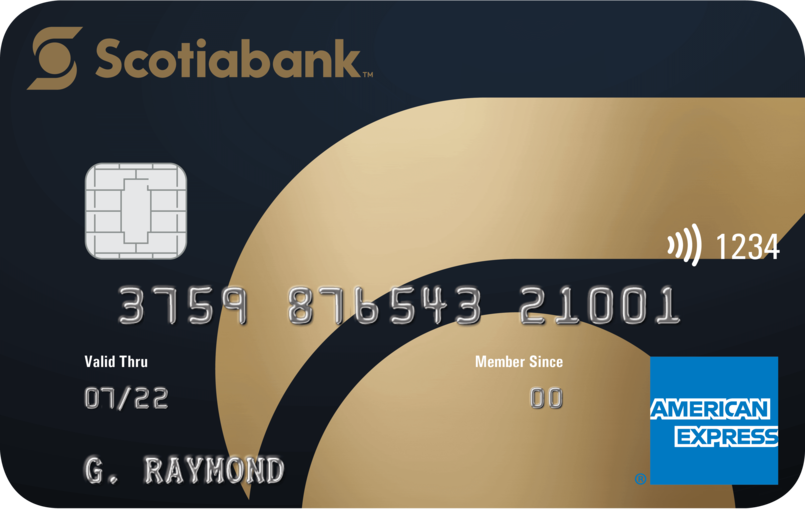 Bonvoy

Marriott bonvoy credit card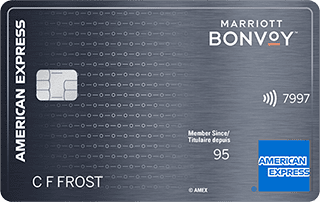 Frequent travelers will want to check out the American Express and Bonvoy partnership that allows travel hackers to transfer points to over 40 different airline programs. In addition, if you transfer over 60k in points you receive a 25% bonus in extra miles.
American Express Front of the Line
The American Express Front of the Line program is a great perk for consumers who enjoy concerts and events. As an eligible Amex cardholder, consumers receive special access to reserved tickets to major events along with presale access. This can include special presale access to theatre shows, concerts, and other special events. In addition, reserved ticket access allows cardmembers access to priority seating reserved for Amex customers exclusively.


What is the Eligibility to Get An American Express Credit Card?
American Express credit cards do not have an income requirement (unless issued by Scotiabank), but require applicants to have at least a credit score of 660. In addition, applicants must be of proper credit age as dictated by their territory or province.


How to Apply for An American Express Credit Card
If you are ready for an American Express credit card there are a few things that you will need to list on your application. First of all, all Canadian credit cardholders are required to be the age set by your province or territory and be a resident of Canada. Second, you need to have a credit score of at least 660. As mentioned earlier, your income will not affect your application unless you are applying for American Express credit cards that are issued via Scotiabank.


What is the Best American Express Credit Card
While there are a variety of American Express credit cards that all offer unique benefits and rewards, overall the Amex Cobalt Card is considered the best because of its high point to dollar ratio. Coincidentally, it is also considered to be among the best overall Canadian credit card by many.


What Kind of Credit Score do You Need to Get an American Express Card?
In general American Express, credit cardholders need to have a score of at least 660 to be approved, but this can vary slightly from card to card.


Where is American Express Accepted in Canada?

American Express credit cards are rated among the best credit cards in Canada in many categories.

They have outstanding rewards, features and benefits however there is a perception by many Canadians that these cards are not widely accepted across Canada.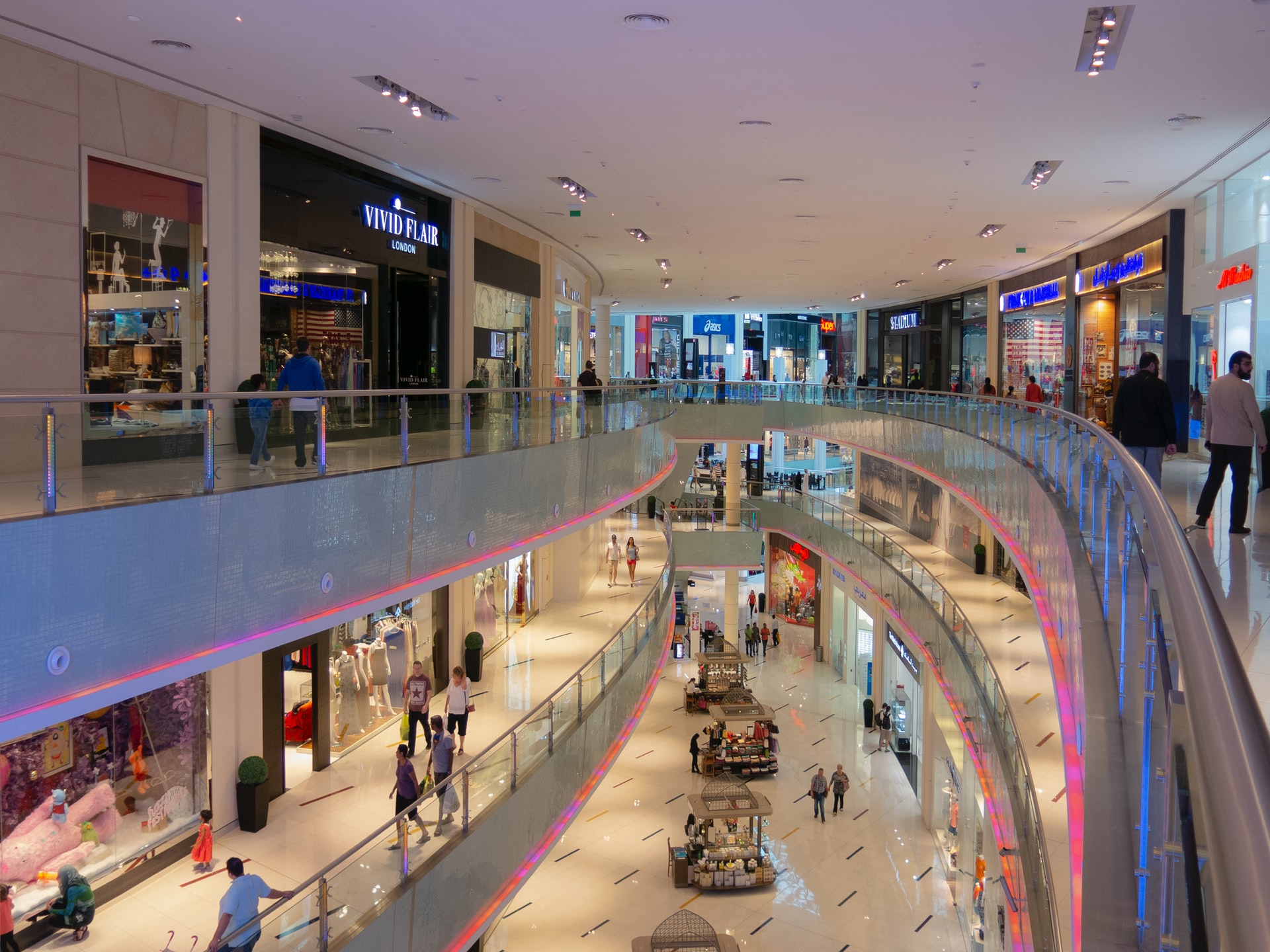 Below is a high level list of retailers that accept American Express:


Grocery Stores: Walmart , Metro, Sobeys, Whole Foods Markets ,Longo's, Safeway, Rabba, 7-Eleven,Pusateri?s.
Gas stations: Petro Canada, Esso, Shell Canada, Ultramar, Irving Oil, Co-Op Gas Bars, Race Trac, Pioneer Energy, Fast Gas
ravel: Air Canada, WestJet, Air Transat, Flight Centre, Celebrity Cruises, Budget. Avis, Hertz, Porter Airlines, Royal Caribbean Cruises, Sunwing Tours.
Hotels: Fairmont Resorts & Hotels, Starwood Hotels, Hilton Hotels & Resorts, Holiday Inn Hotels.
Home: Home Depot, The Brick , Leon's, Lowe's, Hudson's Bay ,Restoration Hardware, Sleep Country Canada, IKEA.
Pharmacy: Jean Coutu, Rexall, Uniprix, London Drugs, Uniprix
Other Credit Card Issuers