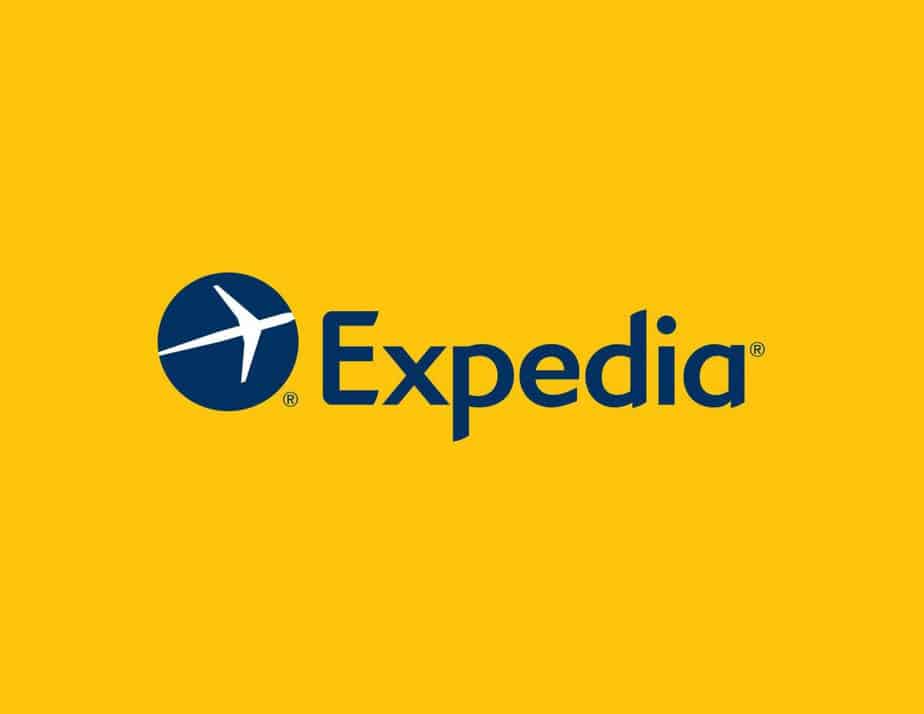 Expedia for TD: What You Need to Know
When TD introduced the Expedia for TD program, travel enthusiasts across Canada couldn't believe the amazing deals they were accessing! Today, Expedia for TD is known to be one of the greatest travel based credit card programs in Canada. Whether you're already a part of Expedia for TD or are looking to join, you can find everything you need to know below.
What is Expedia for TD and How Does It Work?
Expedia for TD is essentially what it sounds like, a special version of Expedia.ca for TD credit card users. TD offers credit card products that allow you to collect points on everyday purchases which can be redeemed with Expedia for TD. These points can be redeemed in a number of ways, not just through Expedia for TD, but you get the most points value through travel purchases.
If a cardholder wishes to use their points for a travel purchase, they can do so through Expedia for TD. The cardholder simply logs into their TD rewards account and makes a booking through Expedia for TD. When it's time to check out, the cardholder can use their points or TD credit card to complete the purchase. It is also possible to use a combination of point redemption and credit card payments. TD has a policy that points must be used in 200 point increments (or $1 increments).
In order to maximize free travel points, TD cardholders need to understand how the travel program, Expedia for TD Points, works. The rewards program is simple at its core, but there are tricks that allow savvy users to maximize their earning potential and enjoy free travel frequently. Here is an overview of how the Expedia for TD Points reward program works and how cardholders can redeem their travel perks.
Earning Expedia for TD Points
Earning Expedia for TD Points is simple. Every time you complete a purchase with an eligible TD Travel Rewards credit card you are awarded points. The TD First Class Travel Visa Infinite card for example offers cardholders 3 TD points for every dollar they spend on everyday purchases.
Since the Expedia for TD Points program is targeted at travelers, cardholders who use their TD Travel Rewards credit cards to book travel on the Expedia for TD website earns 9 TD Points per dollar.
Which TD Credit Cards Do I Need to Use Expedia for TD?
TD offers three credit cards that allow you to collect points that can be redeemed through Expedia for TD. They are: TD First Class Travel Visa Infinite, TD Platinum Travel Visa and TD Rewards Visa. Unfortunately, without one of these credit cards you cannot access Expedia for TD.
TD First Class Travel Visa Infinite Card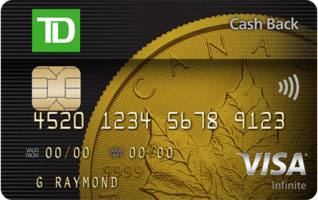 The product of TD's partnership with Expedia, the TD First Class Travel Visa Infinite Card is a great card for travelers. It comes with a host of travel benefits including a flexible points program, generous sign-up bonus and impressive travel insurance coverage.
Generous sign-up bonus – For a limited time, new applicants can receive up to 20,000 TD bonus points ($100 value when redeemed for travel) and 40,000 TD Points when you spend $1,500 within 90 days of Account opening.
Rich travel rewards- Book your flights or any form of travel on ExpediaforTD.com and get back an equivalent of 4.5% for every dollar spent. This is a lot compared to the 2% reward offered by most travel credit cards in Canada. Plus, ExpediaforTD offers the same access to flights and hotels offered by Expedia.com, giving you a lot of options for flights and hotel packages at your fingertips.
Flexible travel options – You can redeem your points for almost everything travel-related such as flights on any airline, hotel stays, car rentals and vacation packages. Points can also be used to cover the cost of taxes and fees as well as be used to redeem merchandise and gift cards from TD's e-store.
Full range of travel insurance benefits – Get fully covered and protected with a comprehensive travel insurance that includes $1,000,000 in travel medical coverage and rental car insurance.
TD Platinum Travel Visa* Card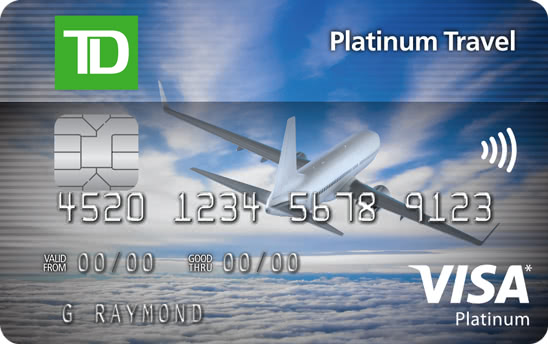 This card carries an annual fee of $89 for the primary cardholder and $35 for the first additional cardholder, which are both waived for the first year. Subsequent additional card holders are charged no annual fee. The annual interest rate is 19.99% on purchases and 22.99% on cash advances.
Like the TD First Class Travel Visa Infinite, cardholders earn TD Rewards Points when using this card to make purchases. Cardholders earn 3 TD Rewards Points for every $1 spent on groceries and recurring bill payments; 5 TD Rewards Points on every $1 spent on travel booked through Expedia; and 2 TD Rewards Points for every $1 spent on all other eligible purchases.
New members will have their $89 annual fee waived for the first year, as well as earn a welcome bonus of 40,000 TD Rewards Points, when applying before May 30, 2021 and upon making their first purchase, which equates to a value of $75.Additional benefits include a variety of travel insurance products; rental car discounts; and auto rental insurance.
TD Rewards Visa Card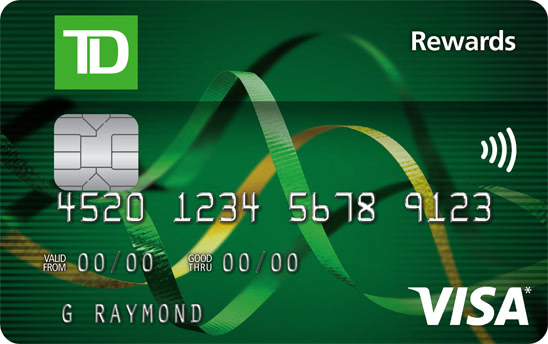 With the TD Rewards Visa Card, members can enjoy the benefits of the TD Rewards program while paying no annual fee. For applications received by May 30, 2021, new members will earn a welcome bonus of 10,000 TD Rewards Points which is equivalent to a value of $25.
The earn rate for TD Rewards Points are 3 Points per dollar spent on travel booked through Expedia for TD, 2 Points for every dollar spent on recurring bill payments registered to the account, 2 Points for every dollar spent on purchases at grocery stores, restaurants and fast food outlets, and 1 Point per dollar spent on all other purchases.
Your points will never expire as long as your account is in good standing, which means that you have the freedom of redeeming points for things such as travel, online shopping, or even to pay down your card balance whenever you like. Additionally, cardholders can shop with peace of mind as eligible purchases are covered with purchase security and extended warranty protection. Other benefits include discount for Priority Pass membership and discounts for car rentals at Avis Rent A Car and Budget Rent A Car.
Redeeming Expedia for TD Points
Expedia for TD points can be redeemed on the Expedia for TD website which offers every single product that is offered on Expedia.ca. These products include hotels, rental cars, flights (both domestic and international), all-inclusive cruises and vacation packages, and tourist experiences such as guided tours and museum tickets.
In short, you simply book whatever travel you would normally book on Expedia.ca on the Expedia for TD website and use any available points to lower the total price.
Actually redeeming points is simple. Once you reach the checkout page you are able to choose the exact combination of cash and points you want as payment. Points must be redeemed in 200-point increments but they can be used at any time. You are also allowed to use points towards carrier fees, airport fees, and taxes.
What is a TD Rewards Point Worth?
Simply put, one TD Rewards point is said to be worth .05%, or half a cent. Therefore, two TD Rewards points are equivalent to one cent and 200 points are equivalent to a dollar. While TD Rewards for Expedia offers tiered earning programs and bonus programs based on your spending habits, the point value remains consistent across the board for all cardholders.
How to Maximize Your Expedia for TD Points
The best way to maximize your Expedia for TD Points travel perks is by booking all travel exclusively through Expedia for TD. Booking directly through the rewards website allows you to earn the highest number of award points which can then offset the cost of your next trip. Continuously booking travel back-to-back via the rewards program will result in nominal savings on each trip and earned points that can be placed towards a future trip.
For example, if you book a $1,000 all-inclusive cruise on Expedia for Td with your TD travel card you will earn 9,000 points. This will result in $45 that can be used towards your next booking on Expedia for TD. When you make the second booking, you will save money upfront and earn more points to use towards a future booking. It's also worth noting that travel experiences like museum tickets and tours can be purchased from the Expedia for TD website so to maximize earning potential be sure to purchase as many components of your vacation package online as possible.
What is the Difference Between Expedia for TD and Expedia.ca
Expedia.ca is a travel website that is open to anyone who wants to book a hotel, flight, or car reservation. It is a large discount travel website that is well-known across Canada for offering highly competitive rates to consumers. Expedia for TD is a co-branded website that offers all of the same perks of Expedia.ca, but also exclusive perks that can only be accessed by TD Travel Reward cardholders.
When TD cardholders use Expedia for TD they are able to access the same large catalog of offers while redeeming their travel rewards which can greatly offset travel purchases. In addition, cardholders that pay for their travel via their TD cards on the Expedia for TD website will earn bonus points that can be used towards future travel. Depending on the current offer and card, users can earn up to three times as many points per dollar on Expedia for TD.
What Travel Products Can I Purchase on Expedia for TD?
Any travel product you want can be purchased through Expedia for TD including the following:
Hotels and accommodation
Flights
Train travel
All-inclusive vacations
Car rentals
Cruises
No matter what travel product you decide to purchase, your TD points will be worth the same amount. You'll also receive bonus points when you make a purchase through Expedia for TD and still be able to collect points with other loyalty programs such as Aeroplan and WestJet Dollars. That's what we call maximizing your dollars spent!
It is possible to redeem your points with other travel providers, however, you won't get as much value when you spend outside of Expedia for TD. The same goes for basically any other use of your TD points because the points program is primarily designed for travel use.
Expedia for TD Price Matching
What is Expedia for TD's Price Matching Policy?
Expedia for TD's price matching policy allows for price matching, but only for hotels and hotel-flight packages. For any other travel bookings, there's no guarantee for the lowest price.
Expedia for TD has incorporated the below checklist for their customers looking to price match. Customers must answer 'yes' to all of the following questions otherwise they won't qualify for price matching. Here's the list of questions:
If you're price matching a hotel, is your check-in time 48 hours away or longer?
If you're price matching a travel package, did you book in the last 24 hours?
Are the travel dates the same?
Do the airline's cabin class, cancellation policy and booking code match the flight component of your booking?
Does the hotel's rate, cancellation policy and room type match the hotel component of your booking?
Do the details of each component of the completely paid flight-hotel package match?
If you answered 'yes' to all of the above questions, you'll be eligible for a refund of the price difference. For packages, you can claim a price match using prices from multiple websites so long as you meet the question criteria.
Even though the price matching policy doesn't cover every travel product, your hotel and flights are usually the biggest component of your vacation. Take the discounts you can get!

Our experts have compiled a list of the best cards in Canada in each major category, from cash back and low rate to balance transfers and more. Explore our top picks and find the best credit card for you.
Best Credit Cards in Canada 2022
Expedia For TD Login
How Do I Login to My Expedia For TD Account?
Before you can login to My Expedia for TD, you must create an account with TD Rewards. Once your account is created, you can login here to My Expedia for TD using your account information. You can start planning your next vacation by selecting "redeem" then 'Expedia for TD". Happy travel deal hunting!
What's the Difference Between Expedia.ca and Expedia for TD?
Virtually everything that is offered on Expedia.ca is also offered on Expedia for TD. The main difference between the two sites is Expedia for TD is a special portal for TD customers to redeem their points and earn more on travel purchases. In addition, Expedia for TD has their own customer service line separate from Expedia.ca. This is something for TD to boast about as most credit card travel rewards come with tons of limitations and restrictions!
Expedia For TD Contact
How do i contact Expedia For TD?
When it comes to travel booking queries, your best option is to chat with someone over the phone. Expedia for TD can be contacted at 1-877-222-6492 and they're available 24/7.
Is Expedia for TD Right for Me?
For the frequent flyer, Expedia for TD is one of the most lucrative travel programs on the market. Many Canadians already use Expedia to book their vacations, who wouldn't love the extra perks of the Expedia for TD program?
Despite how favourable the program is, it's not necessarily for everyone. Travel isn't something everyone spends money on regularly and the cost of switching credit cards can be high for some. Whether or not Expedia for TD is right for you depends on your personal preferences. If you're looking to save money on your next trip and are willing to switch credit cards, Expedia for TD could be right for you!